We're happy you're here. It means you've decided to look your grief in the eye instead of trying to ignore it. That's a beautiful way to honor your loved one.
While we can't promise this post will make you feel better, we know you'll find something here to change the way you look at grief.
Grief and loss quotes can bring meaning, comfort and make us feel less alone.
Read on to discover 101+ losing loved one quotes.
A Word on Grief Healing
Grief is painful and uncomfortable—it's normal to make it want to go away. Unfortunately, though, there's no magic wand you can wave to rid you of your grief. There's no pill, practice or prayer that will delete the feeling. Even therapy can't make grief go away.
Think about it this way: If grief comes from love and love never goes away, why would grief? Grief is just love transformed.
While grief never disappears, it becomes less intense over time. And to help mute the intensity, there's a few things you can do. Evidence-based ways to control grief include:
Talking about it (with friends, family, co-workers)
Try to find meaning in the loss (have you learned something? What did you gain by knowing your loved one?)
Find a relaxing ritual (deep breathing, yoga, spending time in nature, etc.)
Try in-person grief support groups
Try online grief support groups (try searching Facebook)
Read and learn about grief by reading books like "On Death and Dying" by Elisabeth Kubler-Ross.
Try Therapy (even if you don't have a clinical disorder, therapy can help you process and deal with grief)
Grief Healing Ideas Using Losing Loved One Quotes
You can use grief and loss quotes in a variety of ways for grief healing. Once you've picked out a saying you find healing, here are a few ideas:
Use as your wallpaper. Make a wallpaper out of your favorite grief and loss quotes. Use an online program like Canva to make a design you can use on your computer or phone home screen or lock screen.
Place on your fridge. If there's a quote you find particularly healing, print it out or write it on a piece of paper and use a magnet to stick it to your fridge.
Sticky notes. Write your quote on a sticky note and stick it somewhere you'll frequently see it to help your healing process. This could be on a mirror, fridge, door, etc.
Try this grief-healing exercise. Scroll through the list of grief and loss quotes on this page. Then pick out a few that you find healing, meaningful or that make you introspect. Next, write one quote at the top of a journal page. Below it, write your thoughts about it—write freely and without purpose, just focus on the quote. When you're ready, move onto the other grief and loss quotes.
If there's a quote you find interesting, sit with it for a bit. Take some time to just sit and breathe—AKA meditating. After you've quietted your mind with a few breaths, bring the quote to question in mind and meditate on it. If you'd like, after your meditation, write down any interesting thoughts that came to you to record them.
Personalized Items. Get your favorite grief and loss quotes printed on personalized items. For example, a coffee cup with a grief quote can provide comfort every morning. A personalized quote pillow can give you something to hug when the tears are falling down.
Bring to a therapist. Working with a therapist for grief healing can be beneficial. Bring your favorite grief quotes into your therapy session and discuss them with your therapist. Talk about how you relate to the quote, if anything triggers you or if anything makes you change your perspective.
101+  Grief and Loss Quotes: Losing Loved on Quotes
Scroll through these grief and loss quotes to find something that resonates.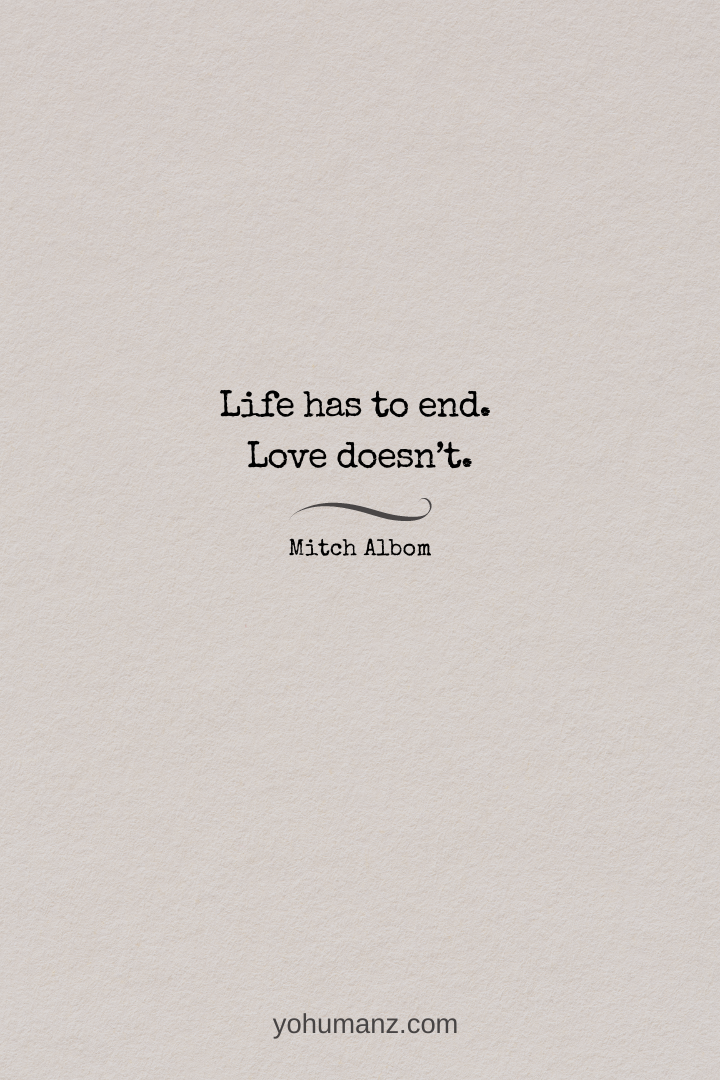 "Life has to end. Love doesn't." -Mitch Albom, The Five People You Meet in Heaven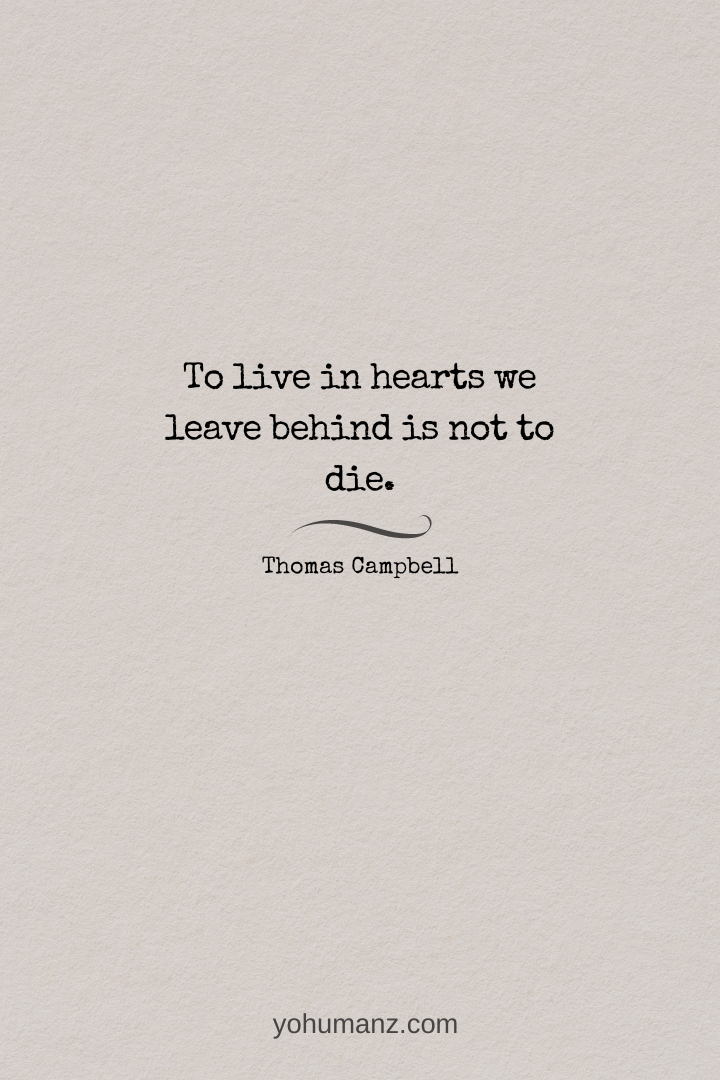 "To live in hearts we leave behind is not to die." -Thomas Campbell
"If there ever comes a day where we can't be together, keep me in your heart. I'll stay there forever." -A.A. Milne, Winnie the Pooh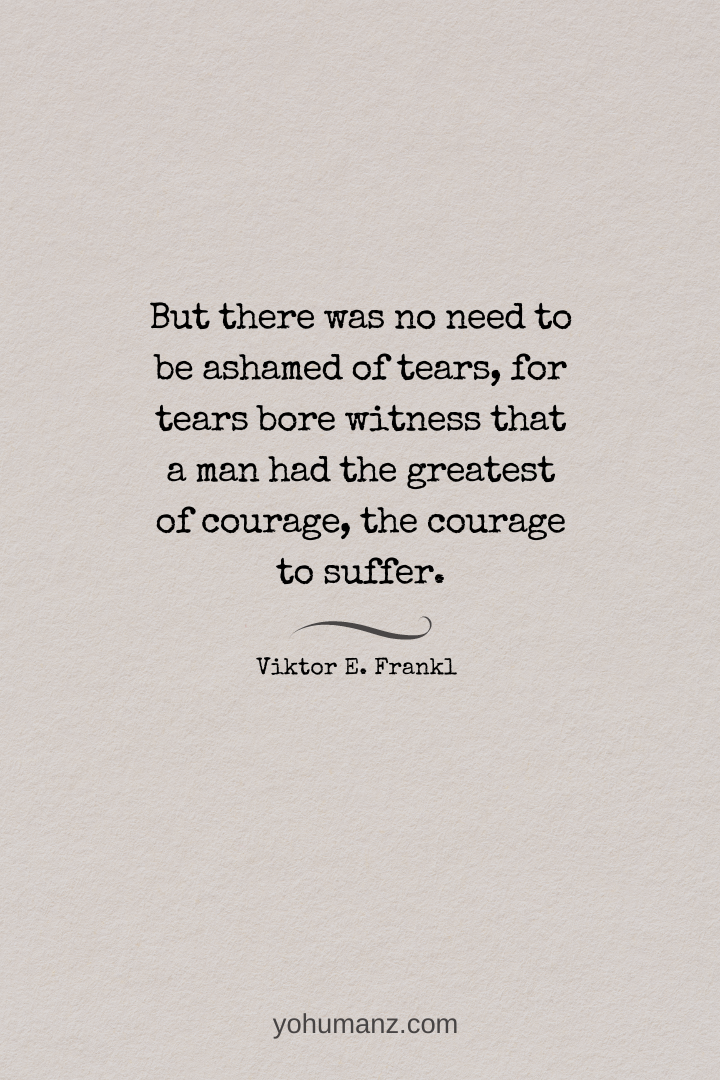 "But there was no need to be ashamed of tears, for tears bore witness that a man had the greatest of courage, the courage to suffer." -Viktor E. Frankl, Man's Search for Meaning
"Where you used to be, there is a hole in the world, which I find myself constantly walking around in the daytime, and falling in at night. I miss you like hell." -Edna St. Vincent Millay
"The deeper that sorrow carves into your being, the more joy you can contain." -Kahlil Gibran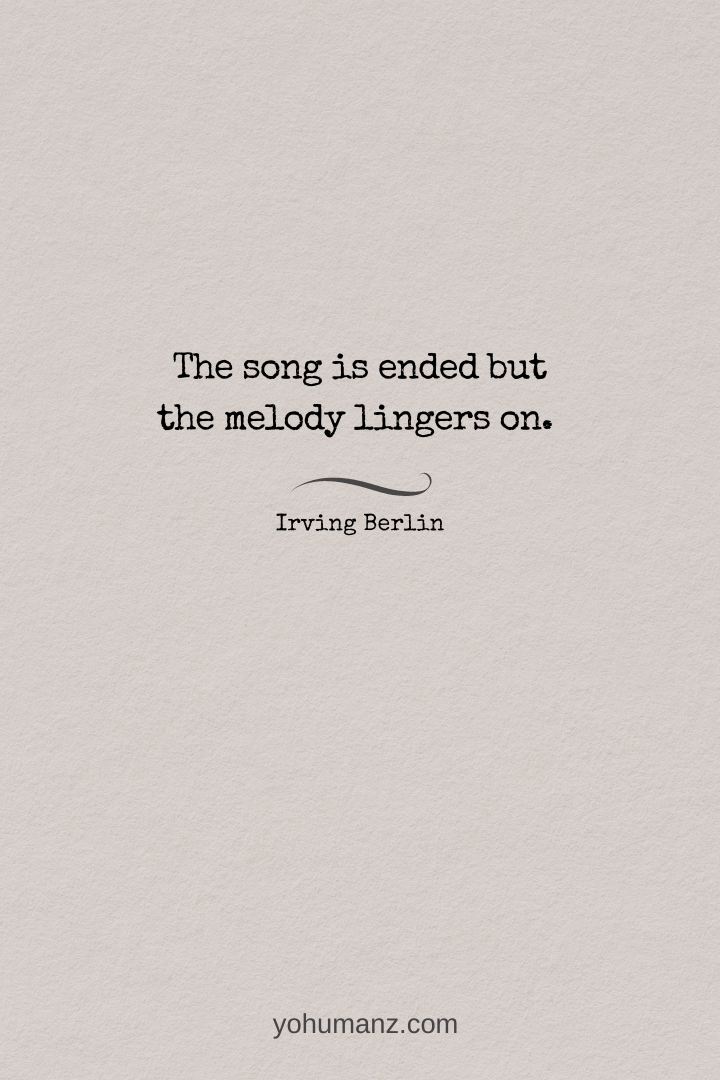 "The song is ended but the melody lingers on." -Irving Berlin
"What we have once enjoyed deeply we can never lose. All that we love deeply becomes a part of us." -Helen Keller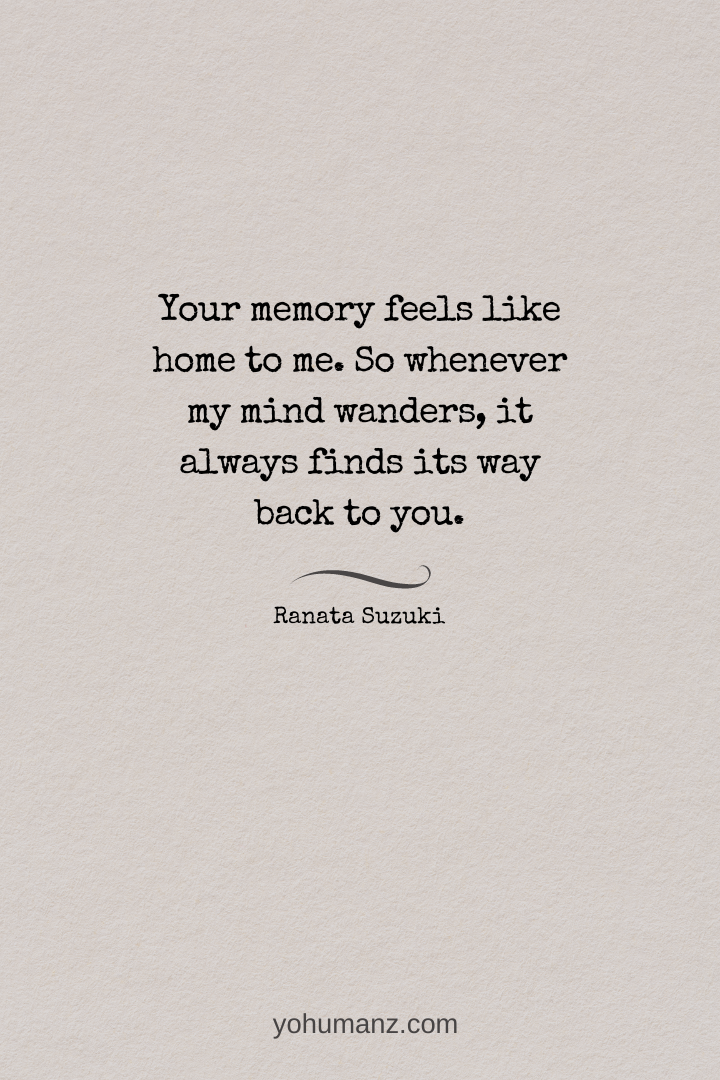 "Your memory feels like home to me. So whenever my mind wanders, it always finds its way back to you." -Ranata Suzuki
"To live in hearts we leave behind is not to die." -Thomas Campbell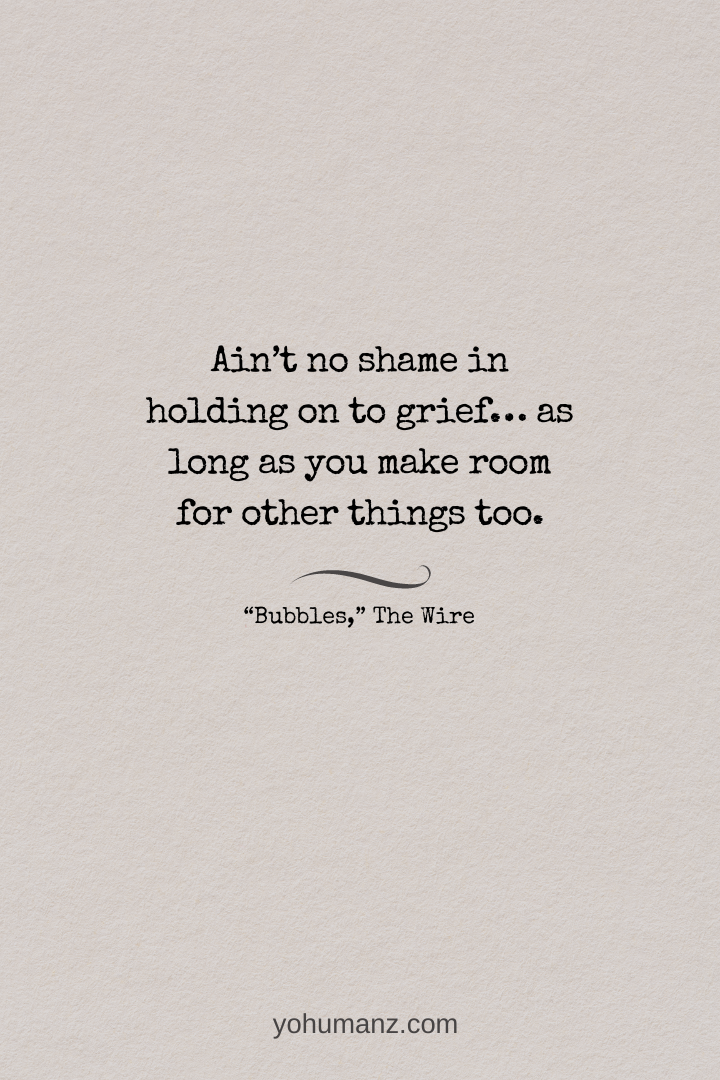 "Ain't no shame in holding on to grief… as long as you make room for other things too." -"Bubbles," The Wire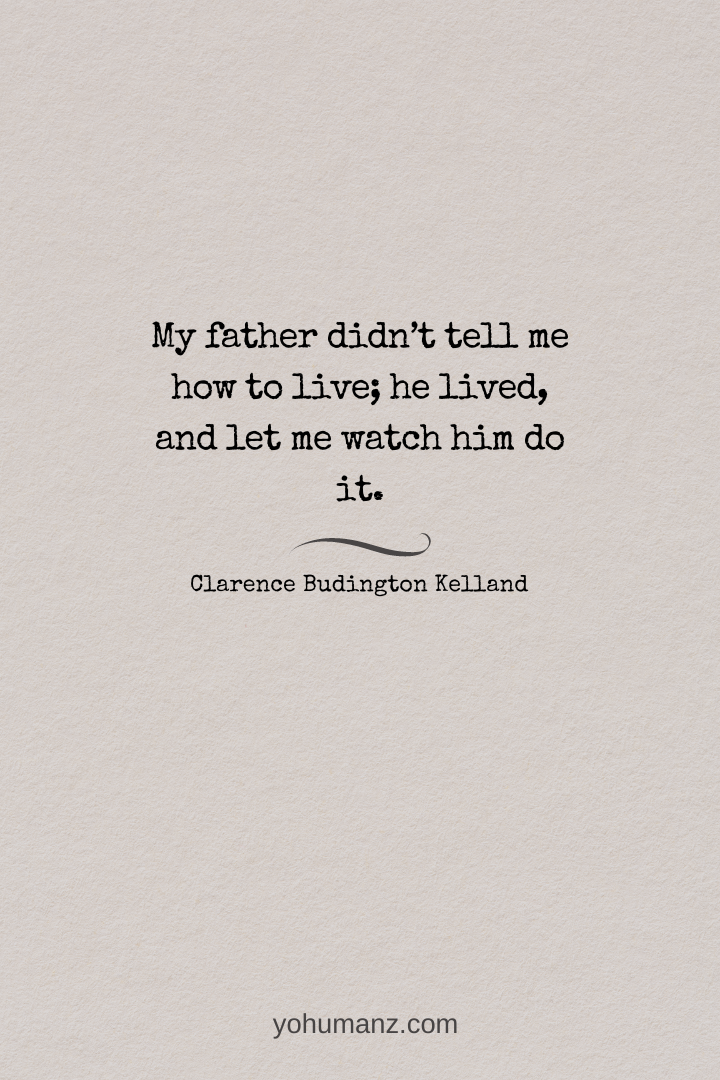 "My father didn't tell me how to live; he lived, and let me watch him do it." -Clarence Budington Kelland
"While grief is fresh, every attempt to divert only irritates. You must wait till it be digested, and then amusement will dissipate the remains of it." -Samuel Johnson
"No one ever told me that grief felt so like fear." -C.S. Lewis, A Grief Observed
 "It's like I have this large black hole in my brain and it's sucking the life out of me. The answers are in there so I sit for hours and stare. No matter how hard and long I look, I only see darkness." -Katie McGarry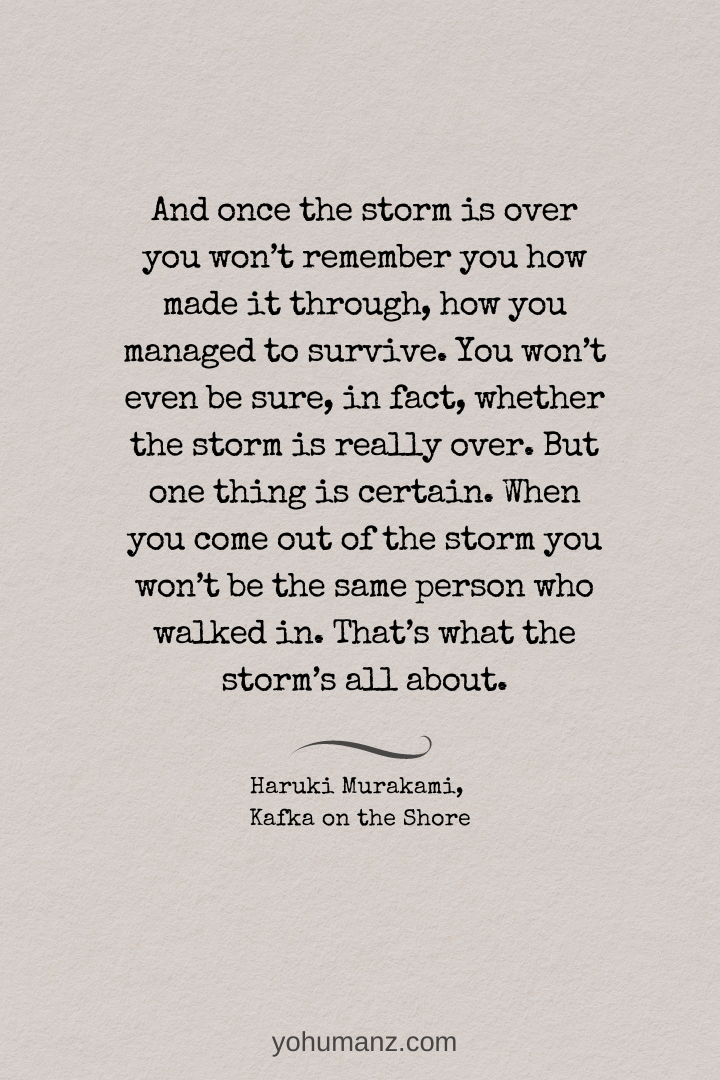 "And once the storm is over you won't remember you how made it through, how you managed to survive. You won't even be sure, in fact, whether the storm is really over. But one thing is certain. When you come out of the storm you won't be the same person who walked in. That's what the storm's all about." -Haruki Murakami, Kafka on the Shore
"Love is really the only thing we can possess, keep with us, and take with us." -Elisabeth Kubler-Ross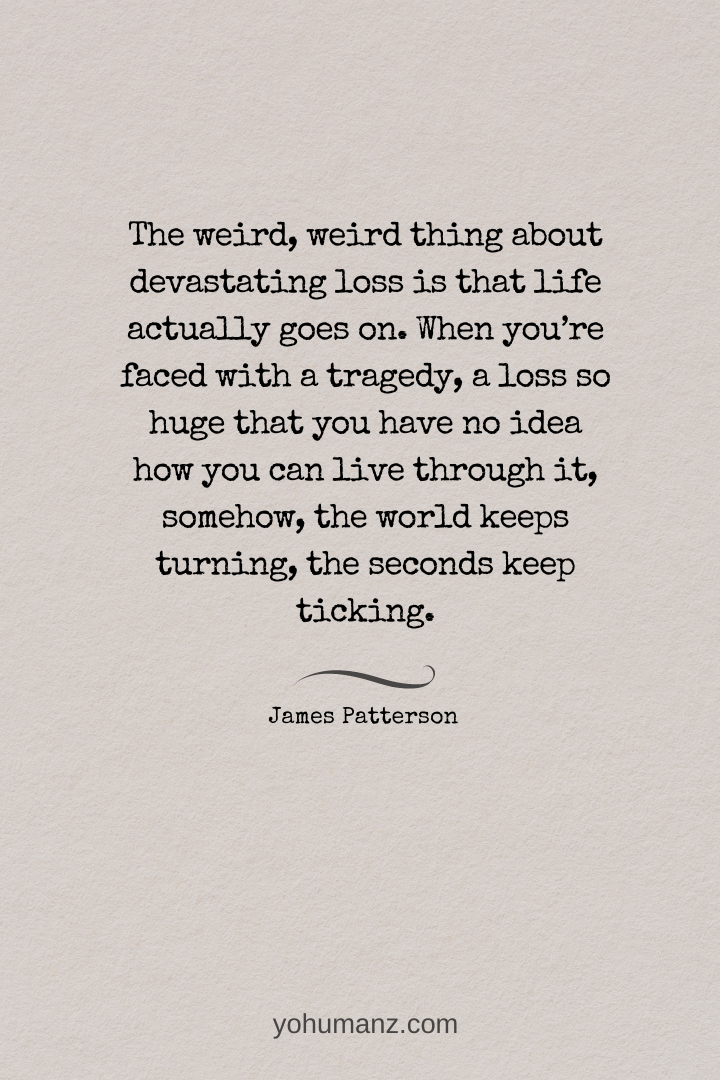 "The weird, weird thing about devastating loss is that life actually goes on. When you're faced with a tragedy, a loss so huge that you have no idea how you can live through it, somehow, the world keeps turning, the seconds keep ticking." –James Patterson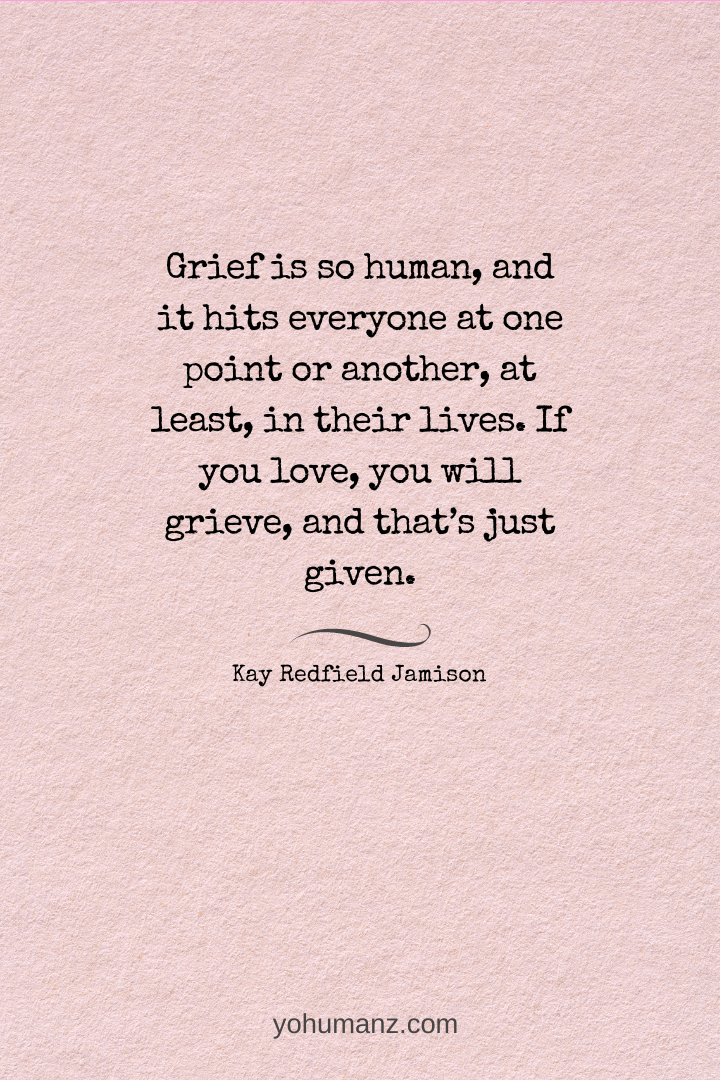 "Grief is so human, and it hits everyone at one point or another, at least, in their lives. If you love, you will grieve, and that's just given." –Kay Redfield Jamison
"Sometimes, only one person is missing, and the whole world seems depopulated." -Alphonse de Lamartine, Méditations Poétiques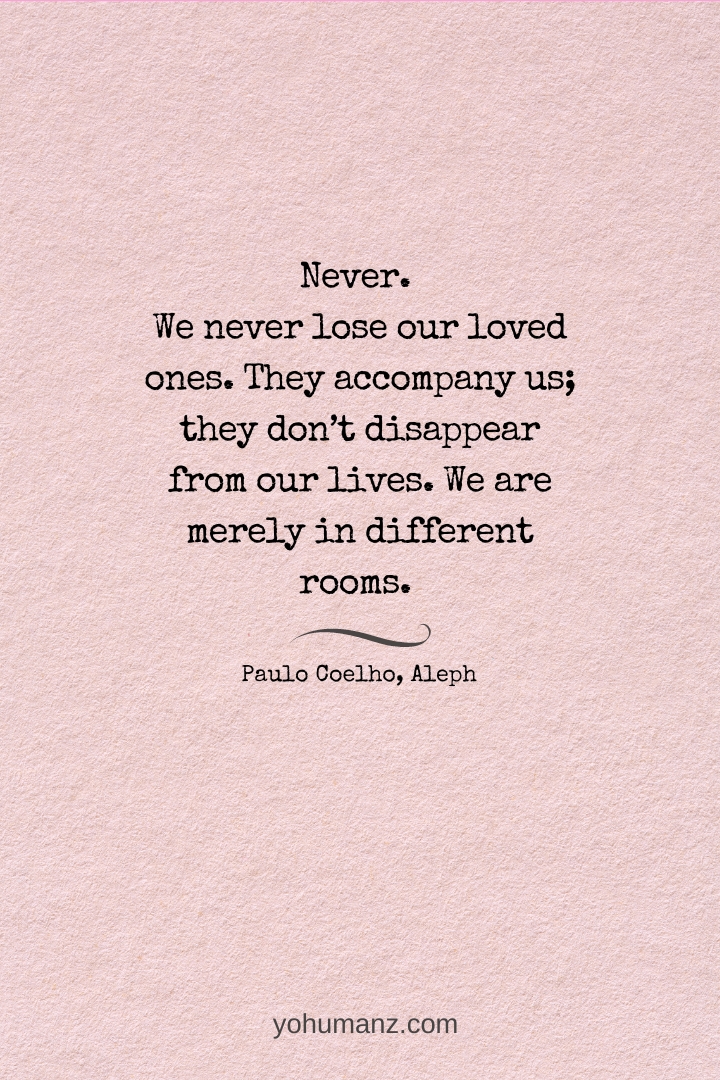 "Never. We never lose our loved ones. They accompany us; they don't disappear from our lives. We are merely in different rooms." –Paulo Coelho, Aleph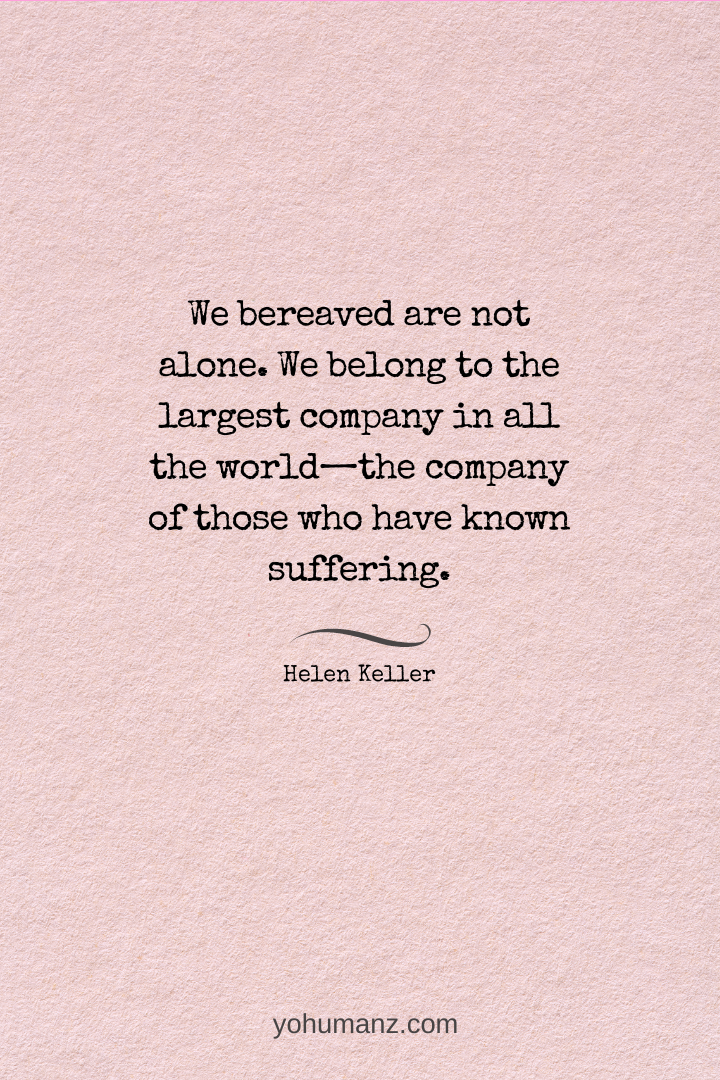 "We bereaved are not alone. We belong to the largest company in all the world—the company of those who have known suffering." -Helen Keller
"Those we love and lose are always connected by heartstrings into infinity." -Terri Guillemets
"An abnormal reaction to an abnormal situation is normal behavior." -Viktor E. Frankl, Man's Search for Meaning
"The darker the night, the brighter the stars, The deeper the grief, the closer is God!" -Fyodor Dostoevsky
"You can't truly heal from a loss until you allow yourself to really feel the loss." -Mandy Hale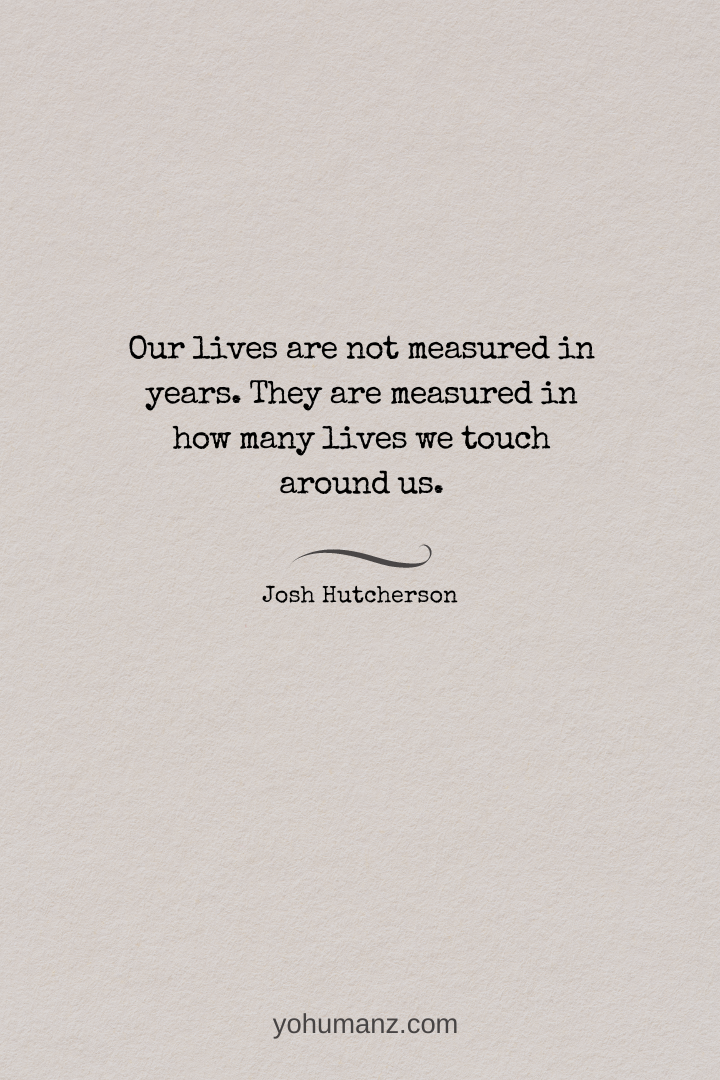 "Our lives are not measured in years. They are measured in how many lives we touch around us." -Josh Hutcherson
"Grief can destroy you — or focus you. You can decide a relationship was all for nothing if it had to end in death, and you alone. OR you can realize that every moment of it had more meaning than you dared to recognize at the time, so much meaning it scared you, so you just lived, just took for granted the love and laughter of each day, and didn't allow yourself to consider the sacredness of it." -Dean Koontz
"Here's what I know: death abducts the dying, but grief steals from those left behind." -Katherine Owen
"What the heart has once owned and had, it shall never lose." -Henry Ward Beeche
"Tears are the silent language of grief." -Voltaire
"All things grow with time, except grief." -Jewish Proverb
"There are three needs of the griever: To find the words for the loss, to say the words aloud and to know that the words have been heard." -Victoria Alexander
"In days that follow, I discover that anger is easier to handle than grief." -Emily Giffin
"You gave me a forever within the numbered days…"-John Green, The Fault in Our Stars
"The risk of love is loss, and the price of loss is grief—but the pain of grief is only a shadow when compared with the pain of never risking love." -Hilary Stanton Zunin
"We need to grieve the ones we've lost — not to sustain our connection to suffering, but to sustain our connection to love." –Jennifer Williamson
"Grief can derange even the strongest and most disciplined of minds." -George R.R. Martin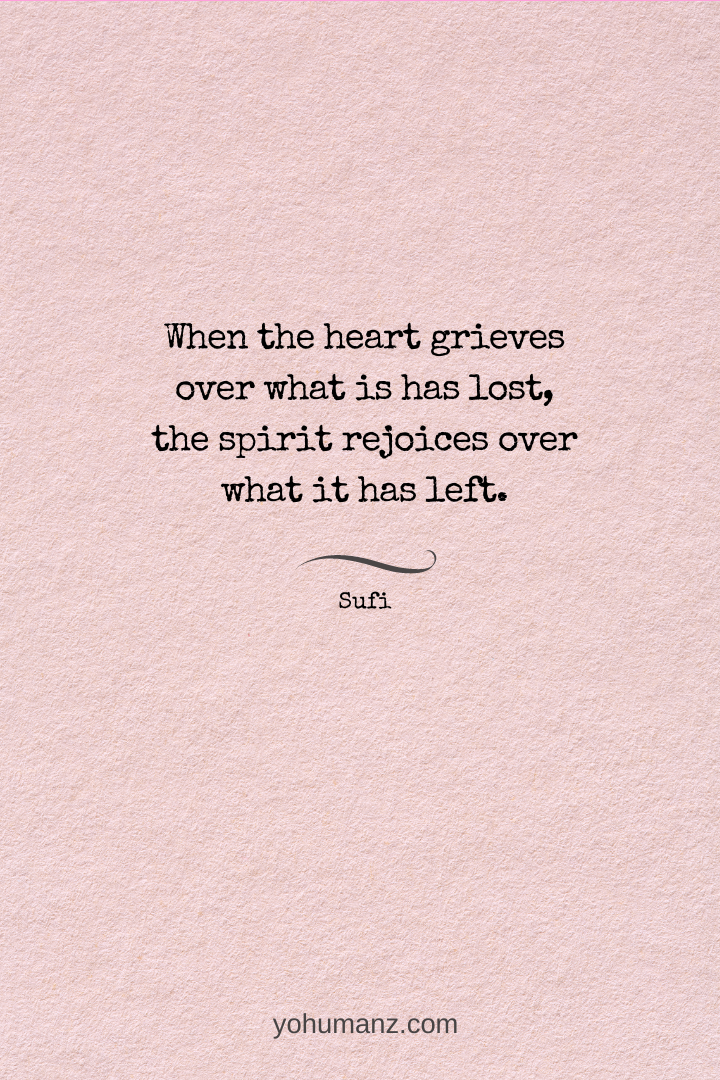 "When the heart grieves over what is has lost, the spirit rejoices over what it has left." -Sufi
"She was no longer wrestling with grief, but could sit down with it as a lasting companion and make it a sharer in her thought." -George Eliot
"Losing my mother at such an early age is the scar of my soul. But I feel like it ultimately made me into the person I am today. I understand the journey of life. I had to go through what I did to be here." -Mariska Hargity
"The only cure for grief is to grieve." -Earl Grollman
"But you can't get to any of these truths by sitting in a field smiling beatifically, avoiding your anger and damage and grief. Your anger and damage and grief are the way to the truth. We don't have much truth to express unless we have gone into those rooms and closets and woods and abysses that we were told not go in to. When we have gone in and looked around for a long while, just breathing and finally taking it in – then we will be able to speak in our own voice and to stay in the present moment. And that moment is home." -Anne Lamott
"Only people who are capable of loving strongly can also suffer great sorrow, but this same necessity of loving serves to counteract their grief and heals them." -Leo Tolstoy
"She was no longer wrestling with the grief, but could sit down with It as a lasting companion and make it a sharer in her thoughts." -George Eliot
"Nothing that grieves us can be called little: by the eternal laws of proportion a child's loss of a doll and a king's loss of a crown are events of the same size." -Mark Twain
"Every one of us is losing something precious to us. Lost opportunities, lost possibilities, feelings we can never get back again. That's part of what it means to be alive." -Haruki Murakami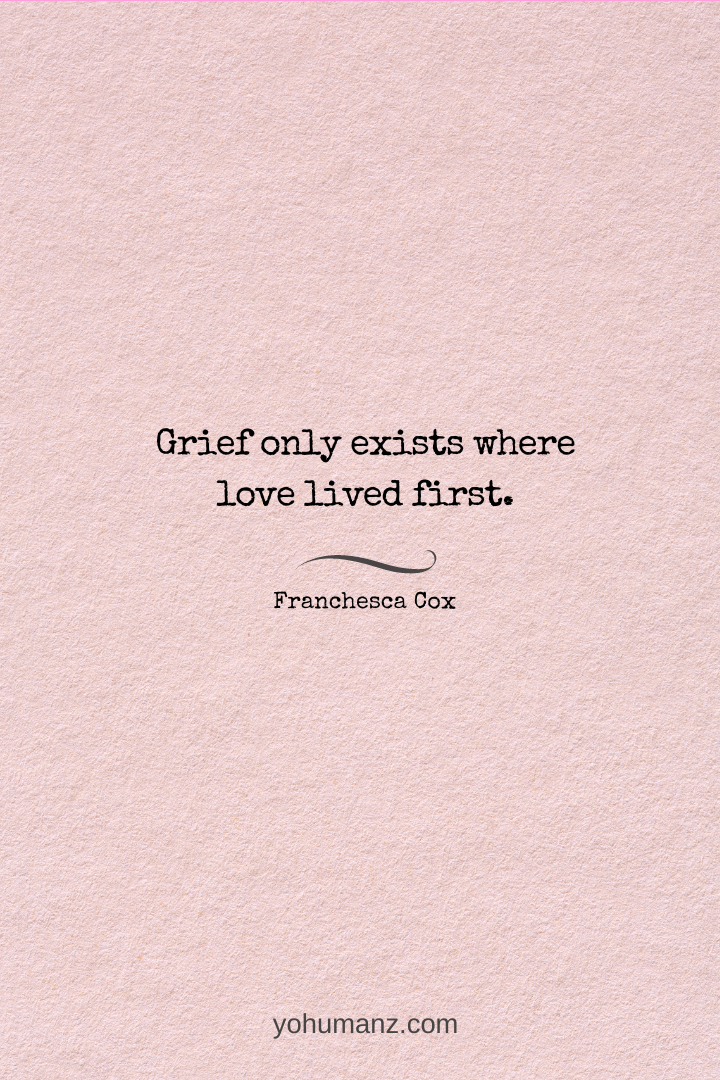 "Grief only exists where love lived first." –Franchesca Cox
"There is no grief like the grief that does not speak." -Henry Wadsworth Longfellow
"If you have a sister and she dies, do you stop saying you have one? Or are you always a sister, even when the other half of the equation is gone?" -Jodi Picoult, My Sister's Keeper 
"There is a sacredness in tears. They are not the mark of weakness, but of power. They speak more eloquently than ten thousand tongues. They are the messengers of overwhelming grief, of deep contrition, and of unspeakable love." -Washington Irving
"Tis better to have loved and lost than never to have loved at all." -Alfred Lord Tennyson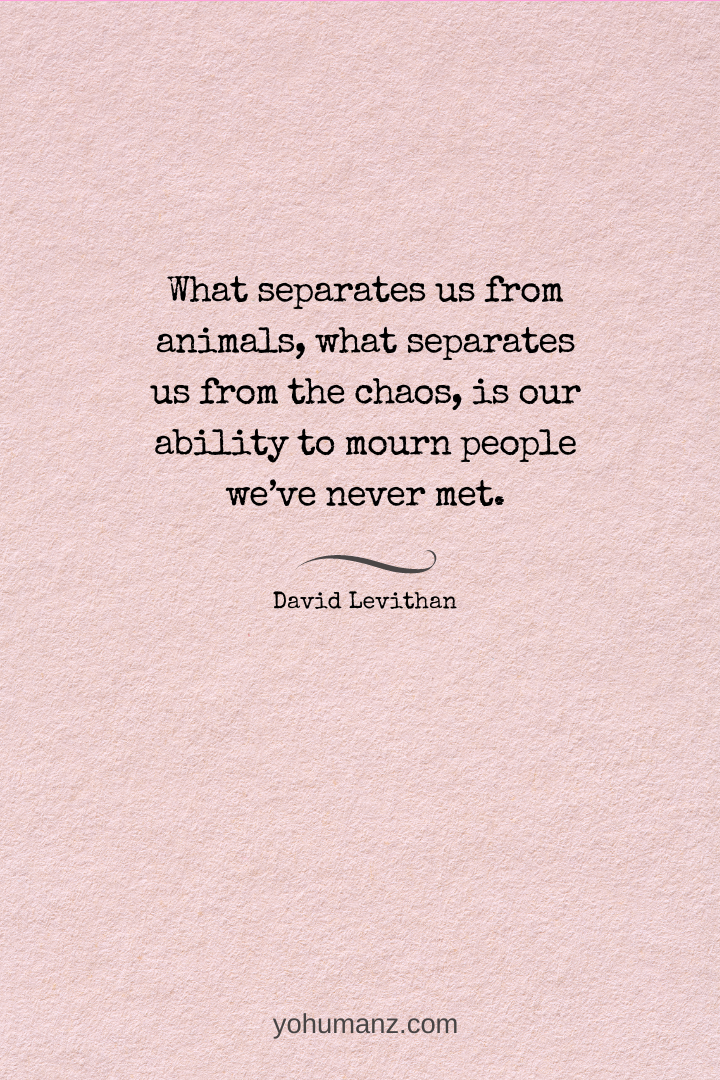 "What separates us from animals, what separates us from the chaos, is our ability to mourn people we've never met." -David Levithan
"I should know enough about loss to realize that you never really stop missing someone—you just learn to live around the huge gaping hole of their absence." -Alyson Noel, Evermore 
"Grief is love turned into an eternal missing" -Rosamund Lupton
"Grief changes shape, but it never ends." -Keanu Reeves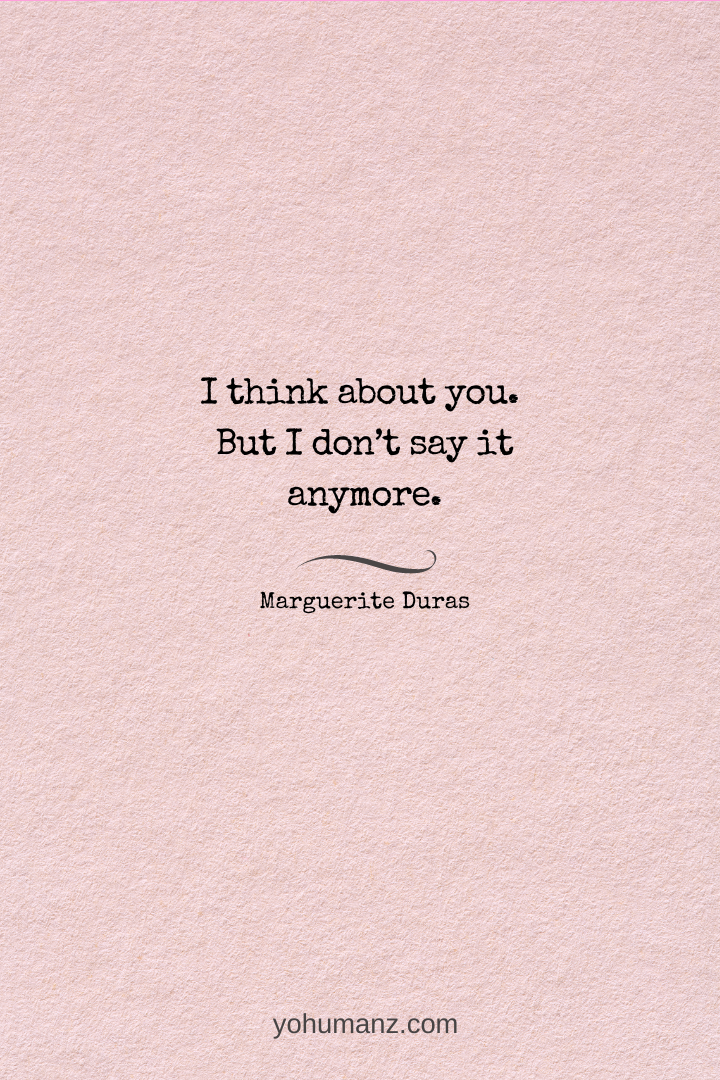 "I think about you. But I don't say it anymore." -Marguerite Duras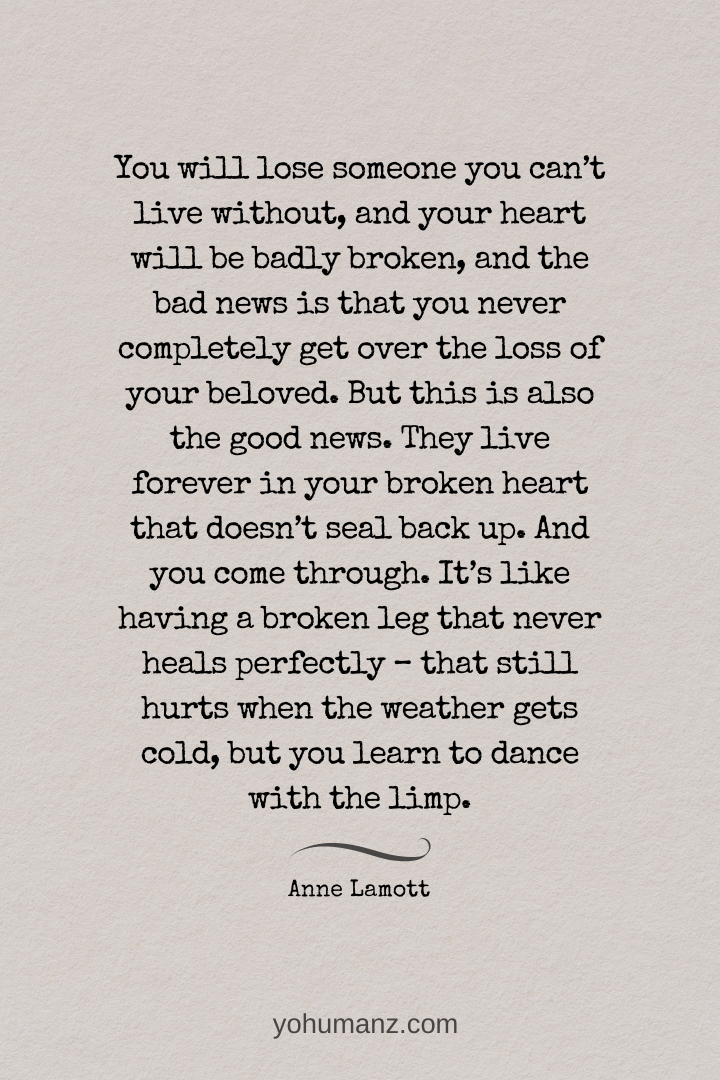 "You will lose someone you can't live without, and your heart will be badly broken, and the bad news is that you never completely get over the loss of your beloved. But this is also the good news. They live forever in your broken heart that doesn't seal back up. And you come through. It's like having a broken leg that never heals perfectly – that still hurts when the weather gets cold, but you learn to dance with the limp." -Anne Lamott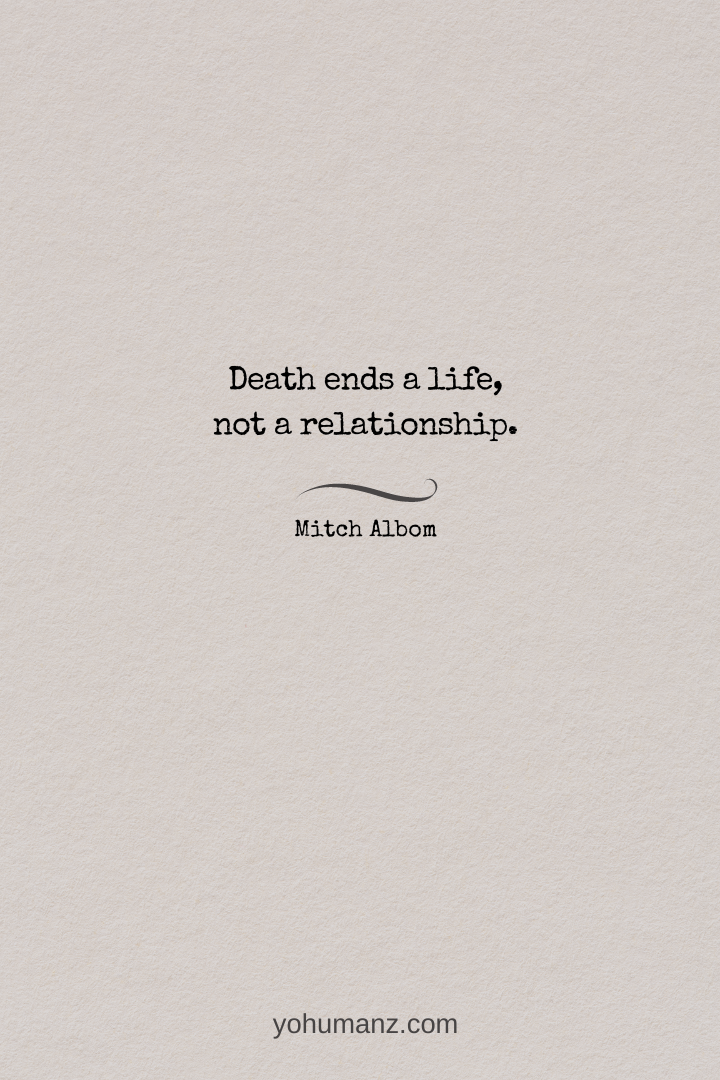 "Death ends a life, not a relationship." -Mitch Albom, Tuesdays with Morrie
"Do you not know that a man is not dead while his name is still spoken?" –Terry Pratchett
"I will not say: do not weep; for not all tears are an evil." -J.R.R. Tolkien
"Just because we lost a life, doesn't mean we have to lose ourselves." –Tamara Gabriel
"So often we try to make other people feel better by minimizing their pain, by telling them that it will get better (which it will) or that there are worse things in the world (which there are). But that's not what I actually needed. What I needed was for someone to tell me that it hurt because it mattered." -John Green
"My father didn't tell me how to live; he lived and let me watch him do it." – Clarence Budington Kellan
"At times in life you have to leave people where they left you." -Angel Moreira
"You cannot die of grief, though it feels as if you can. A heart does not actually break, though sometimes your chest aches as if it is breaking. Grief dims with time. It is the way of things. There comes a day when you smile again, and you feel like a traitor. How dare I feel happy. How dare I be glad in a world where my father is no more. And then you cry fresh tears, because you do not miss him as much as you once did, and giving up your grief is another kind of death." -Laurell K. Hamilton
"Grief is the last act of love we can give to those we loved. Where there is deep grief, there was great love." -Anonymous
"My sister will die over and over again for the rest of my life. Grief is forever. It doesn't go away; it becomes a part of you, step for step, breath for breath." –Jandy Nelson, The Sky is Everywhere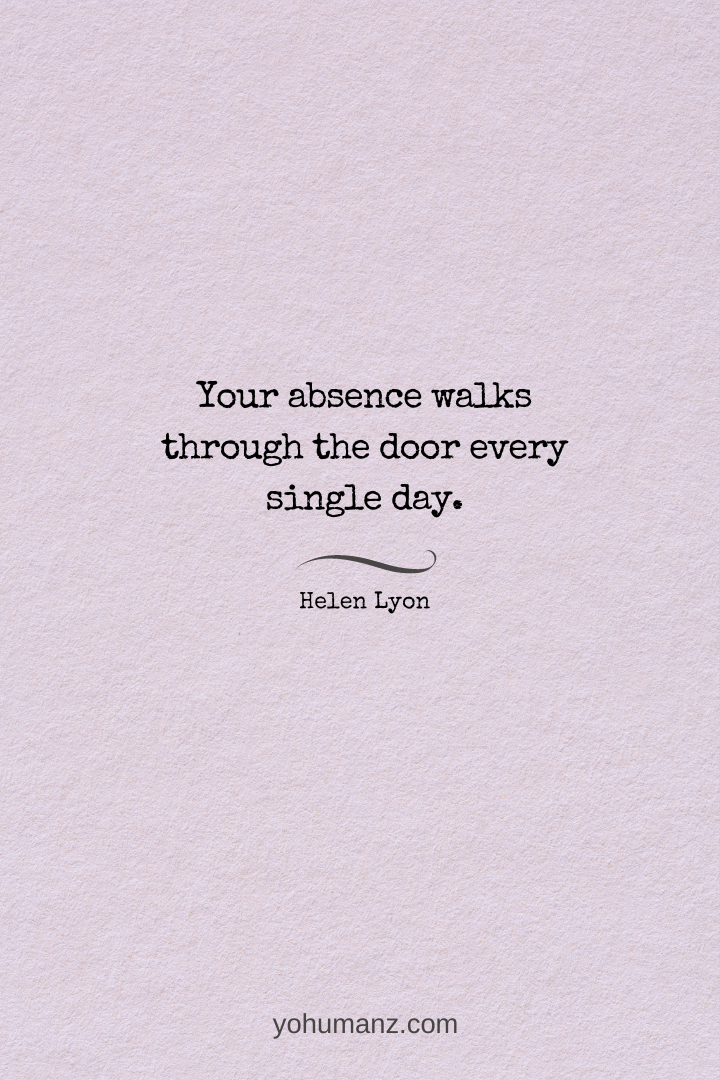 "Your absence walks through the door every single day." -Helen Lyon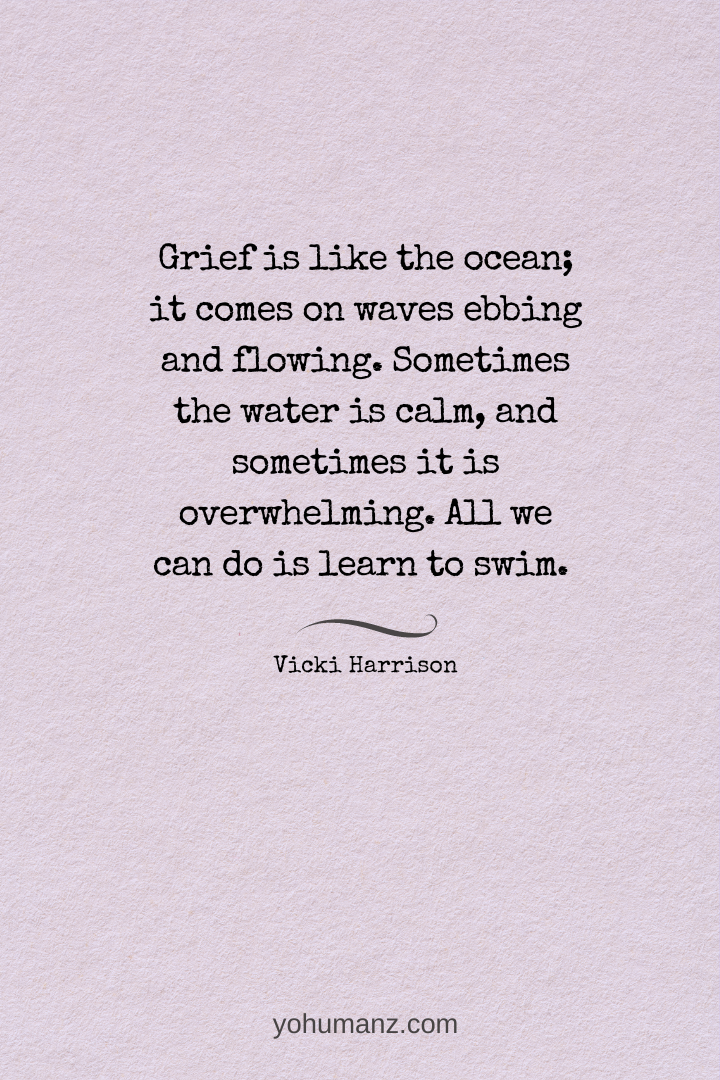 "Grief is like the ocean; it comes on waves ebbing and flowing. Sometimes the water is calm, and sometimes it is overwhelming. All we can do is learn to swim." -Vicki Harrison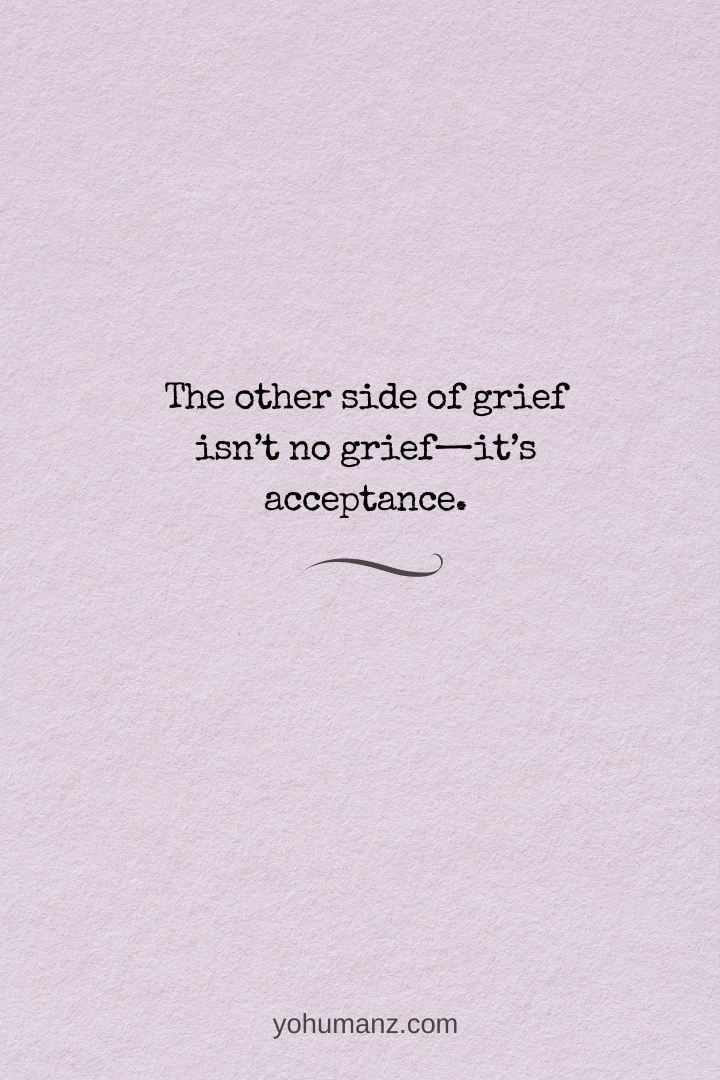 "The other side of grief isn't no grief—it's acceptance."
"I still don't know how to look at my life without an inescapable absence of you." –Chloe Frayne
"Only grieving can heal grief; the passage of time will lessen the acuteness, but time alone, without the direct experience of grief, will not heal it." -Anne Lamott
"When one person is missing the whole world seems empty." ― Pat Schweibert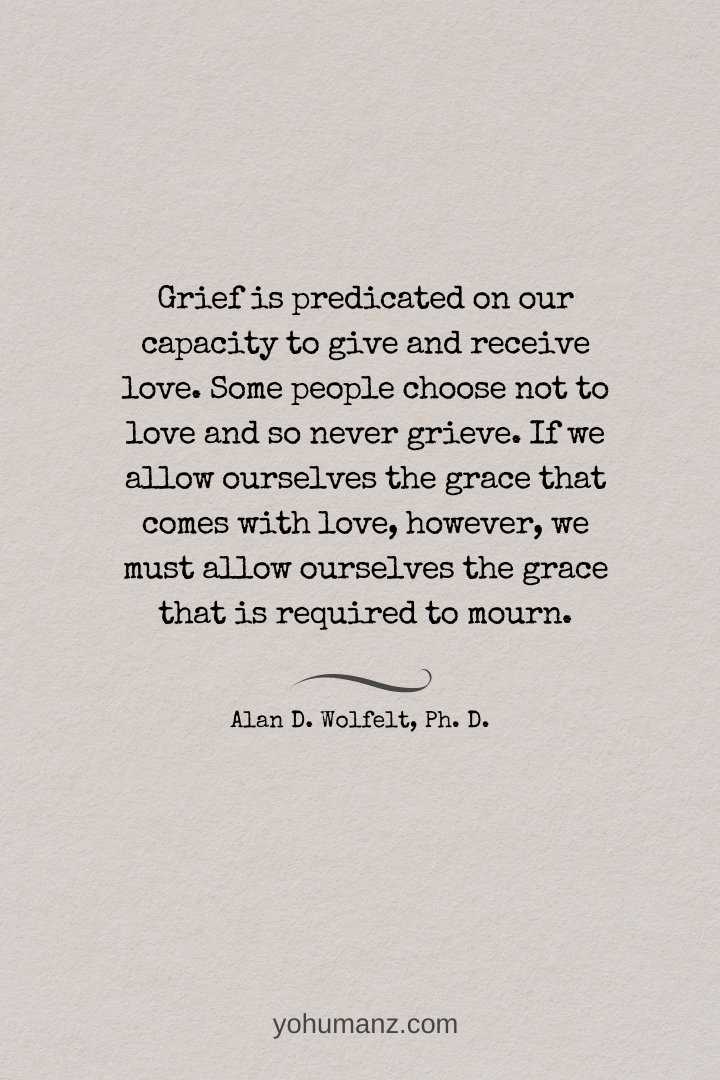 "You see, love and grief are two sides of the same precious coin. One does not—and cannot—exist without the other. They are the yin and yang of our lives… Grief is predicated on our capacity to give and receive love. Some people choose not to love and so never grieve. If we allow ourselves the grace that comes with love, however, we must allow ourselves the grace that is required to mourn." –Alan D. Wolfelt, Ph. D.
"And when great souls die, after a period, peace blooms, slowly and always irregularly. Spaces fill with a kind of soothing electric vibration. Our senses, restored, never to be the same, whisper to us. They existed. We can be. Be and be better. For they existed." -Maya Angelou
"Grief is a most peculiar thing; we're so helpless in the face of it. It's like a window that will simply open of its own accord. The room grows cold, and we can do nothing but shiver. But it opens a little less each time, and a little less; and one day we wonder what has become of it." -Arthur Golden
"Acknowledging your own grief—that it really is that bad and painful—doesn't make it go away. But it makes you feel less ashamed about it."
"Grief is the cry inside you that gets duller and louder without anyone noticing."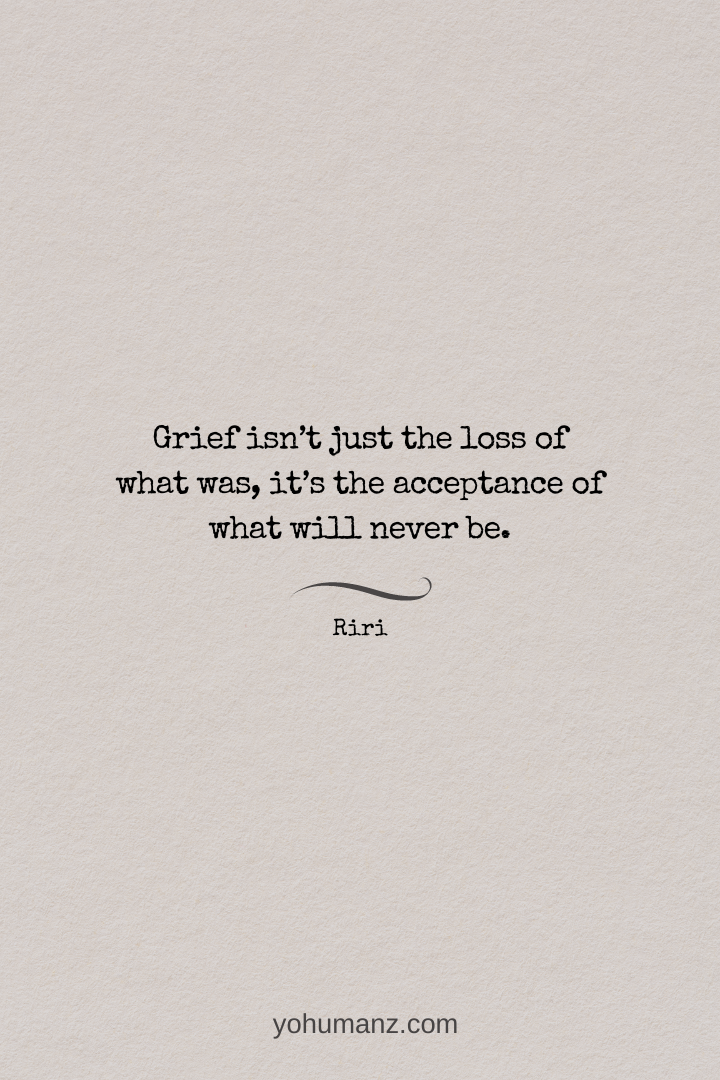 "Grief is when you think the feeling can only be lifted by the person you lost."
"Grief is when a part of yourself dies with them." -RRR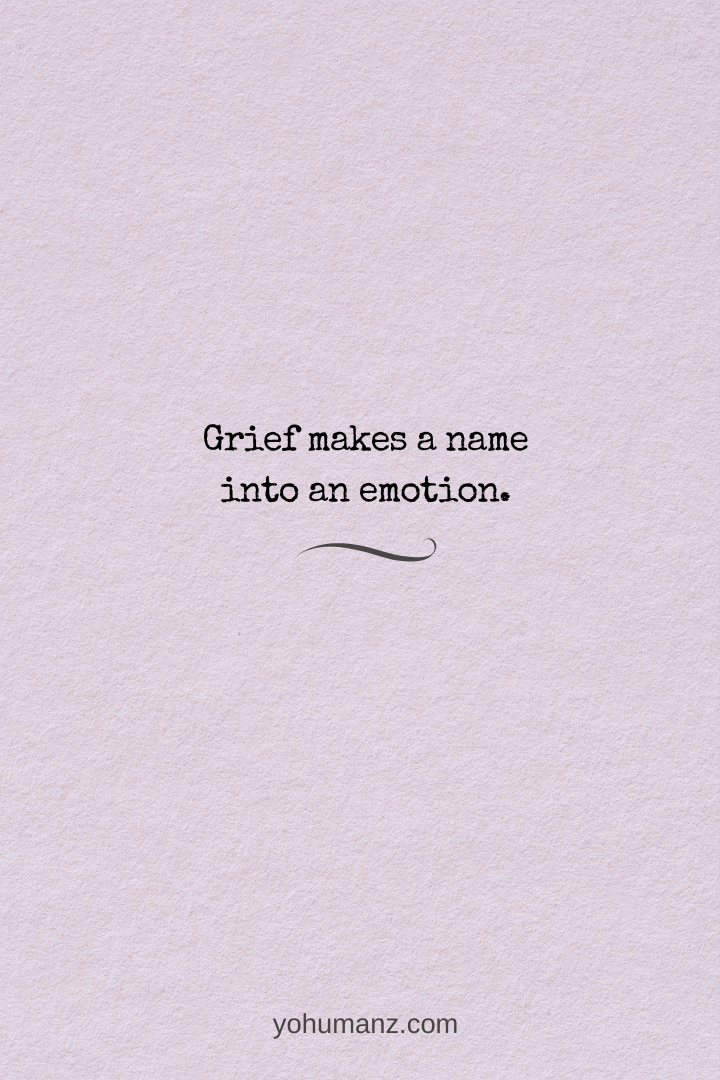 "Grief makes a name into an emotion." -RRR
"Depression, anxiety and anger may be different hues of grief." -RRR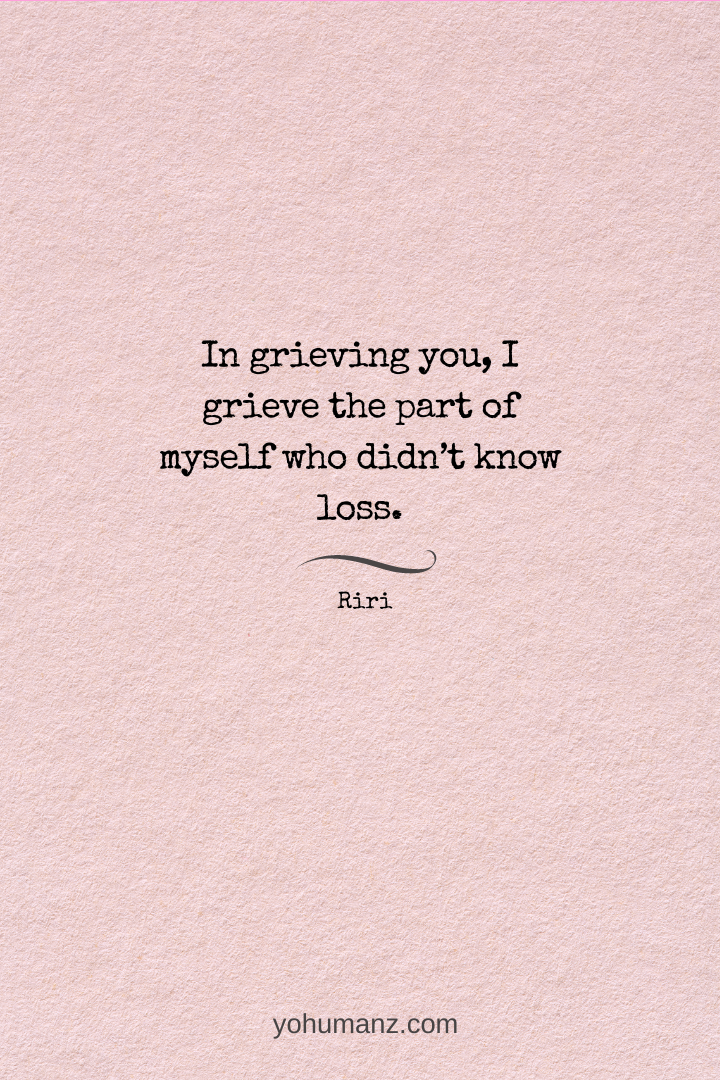 "In grieving you, I grieve the part of myself who didn't know loss." -RRR
"Grief isn't just the loss of what was, it's the acceptance of what will never be." -RRR
"With grief, you can be whole, but you will never be the same." -RRR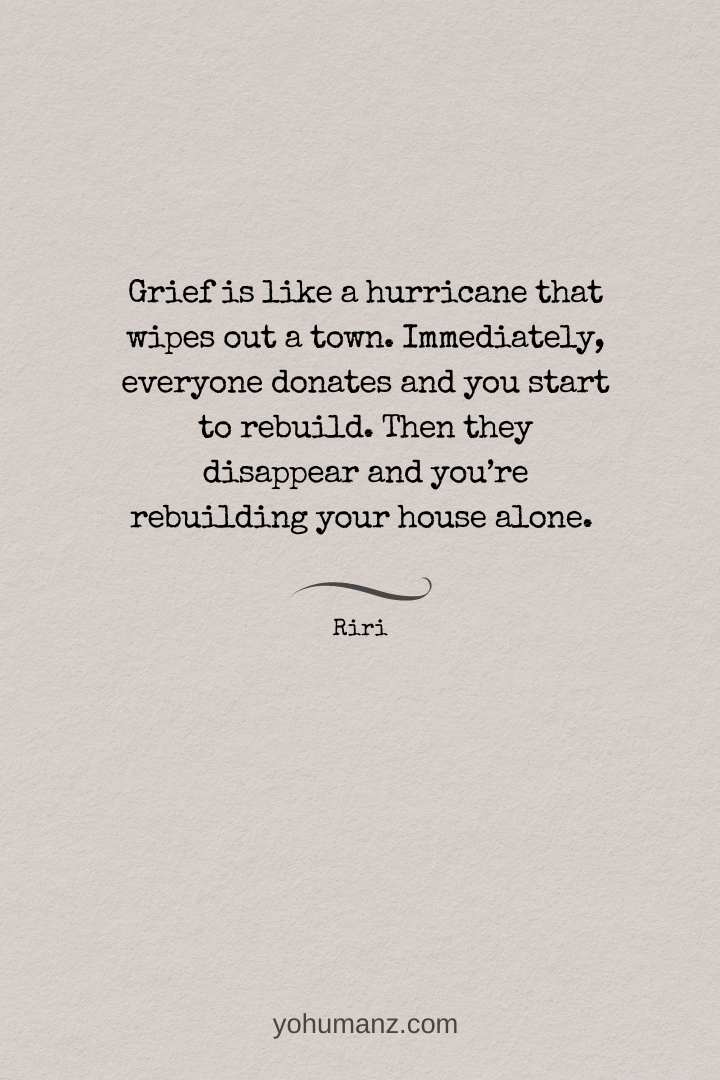 "Grief is like a hurricane that wipes out a town. Immediately, everyone donates and you start to rebuild. Then they disappear and you're rebuilding your house alone." -RRR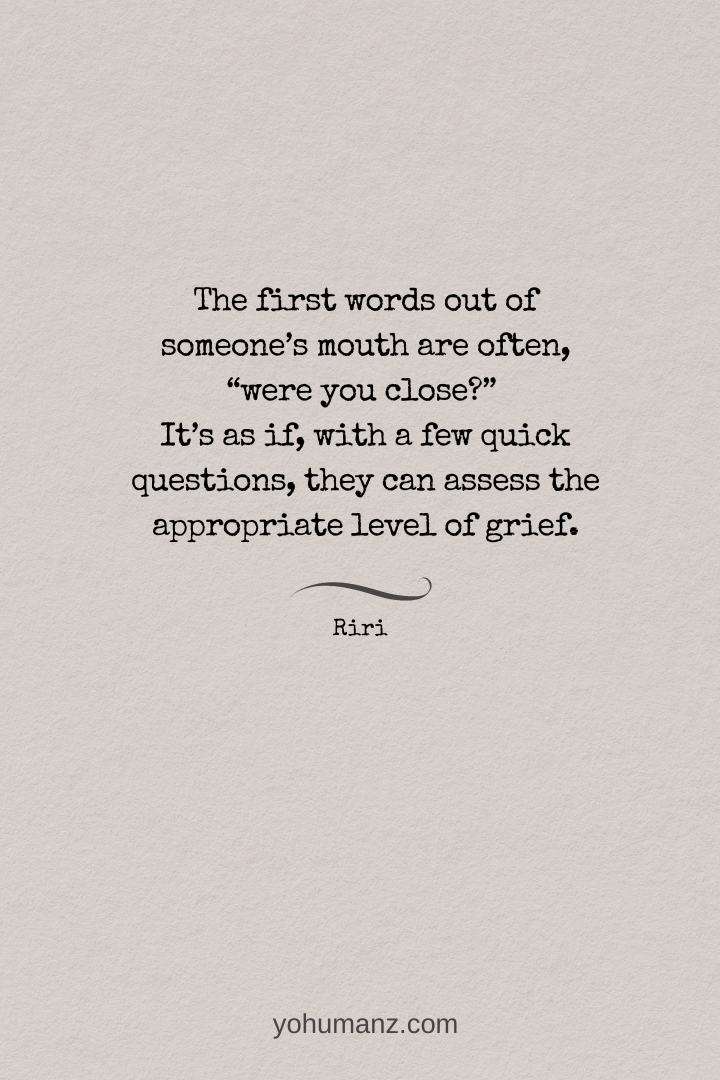 "The first words out of someone's mouth are often, "were you close?" It's as if, with a few quick questions, they can assess the appropriate level of grief."
"You don't get over grief—just the shame of how long it lasts." -RRR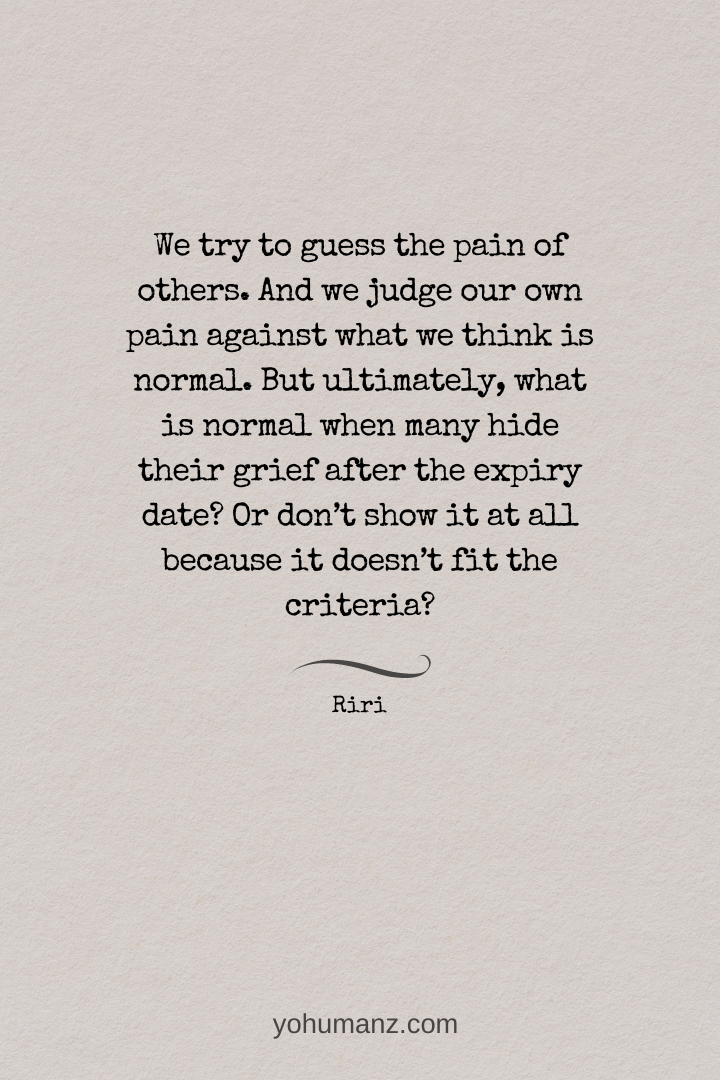 "We try to guess the pain of others. And we judge our own pain against what we think is normal. But ultimately, what is normal when many hide their grief after the expiry date? Or don't show it at all because it doesn't fit the criteria?" -RRR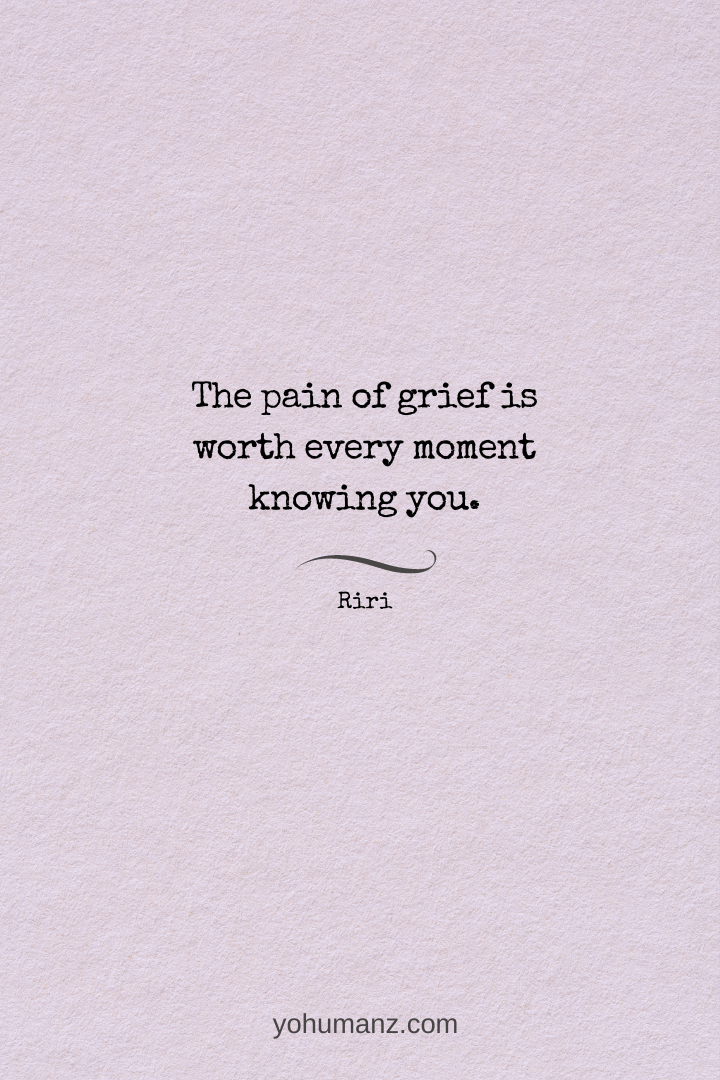 "The pain of grief is worth every moment knowing you." -RRR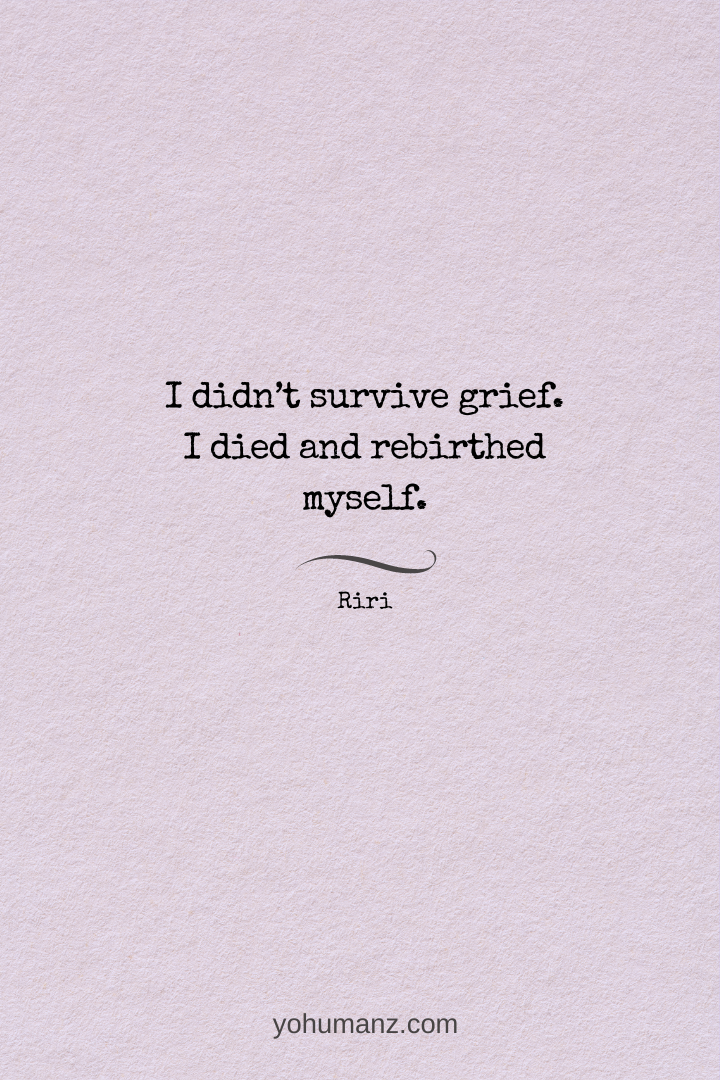 "I didn't survive grief. I died and rebirthed myself." -RRR
"Love never dies. It's called grief." -RRR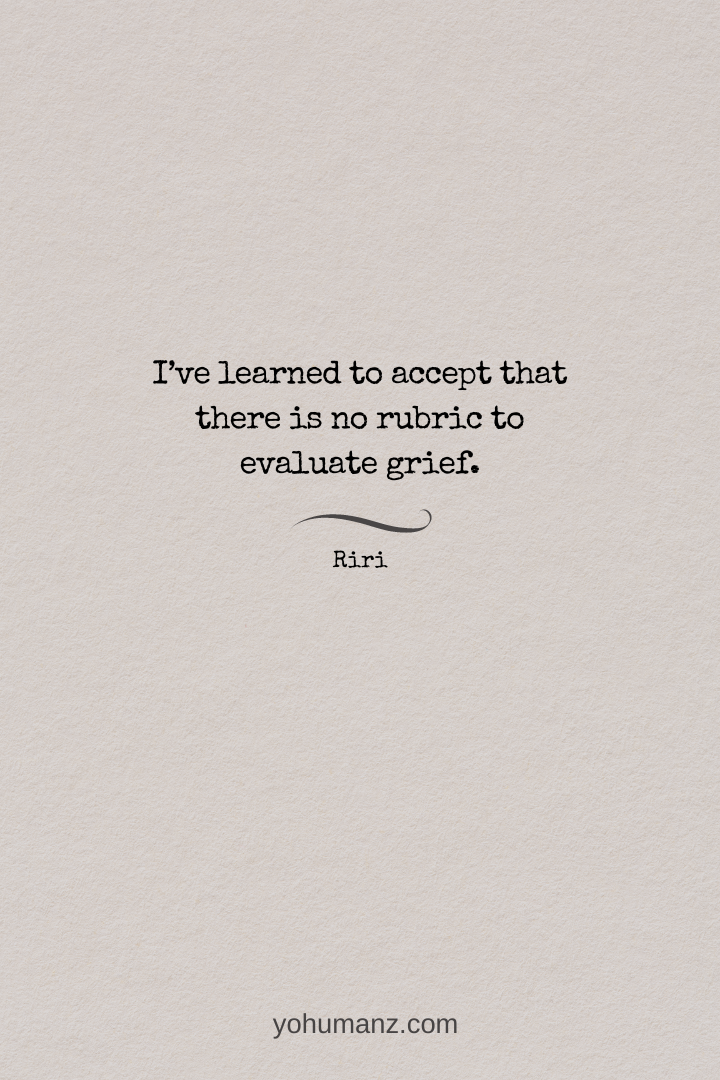 "I've learned to accept that there is no rubric to evaluate grief." -RRR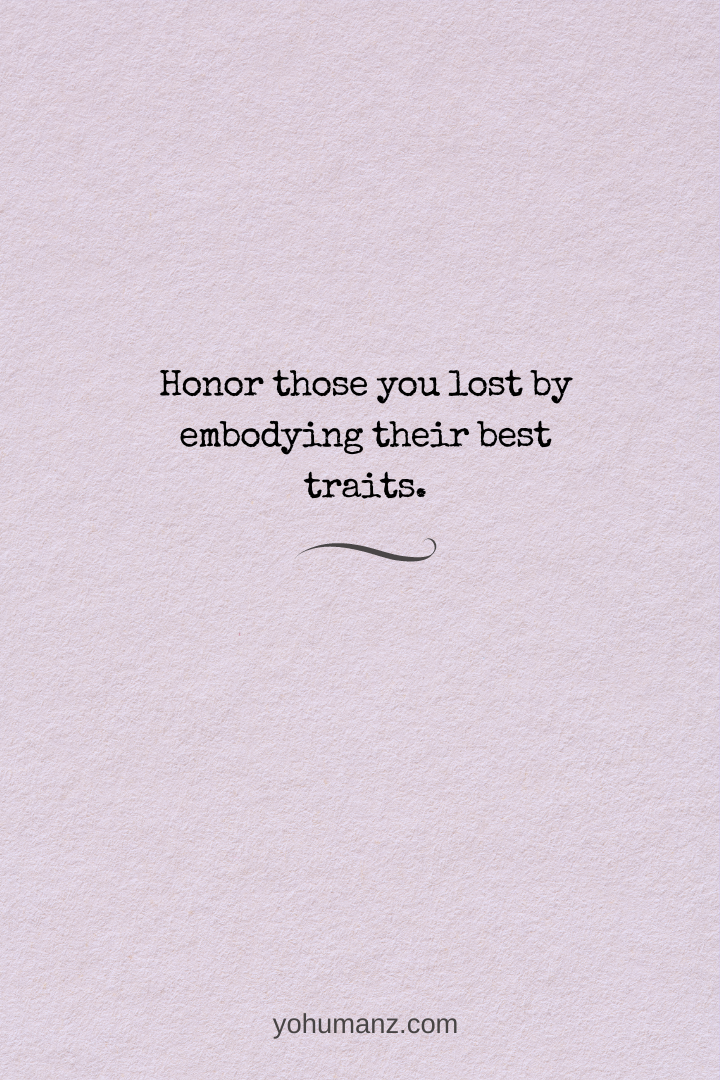 "Honor those you lost by embodying their best traits." -RRR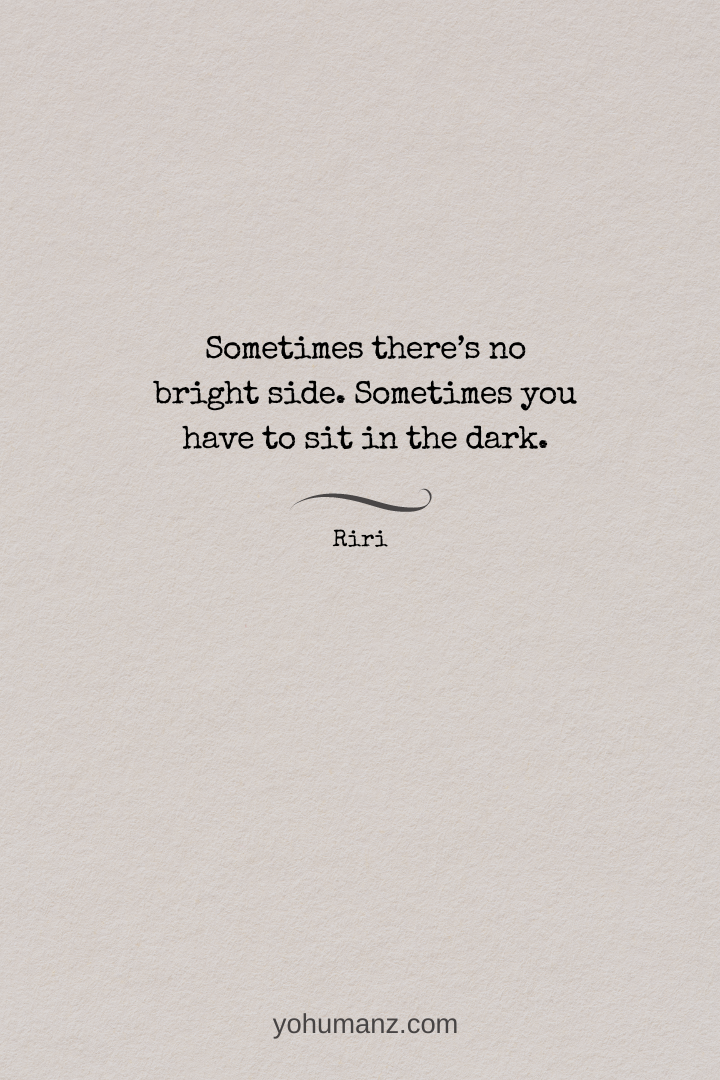 "Sometimes there's no bright side. Sometimes you have to sit in the dark." -RRR
"I could have you forever and it still wouldn't be long enough." -RRR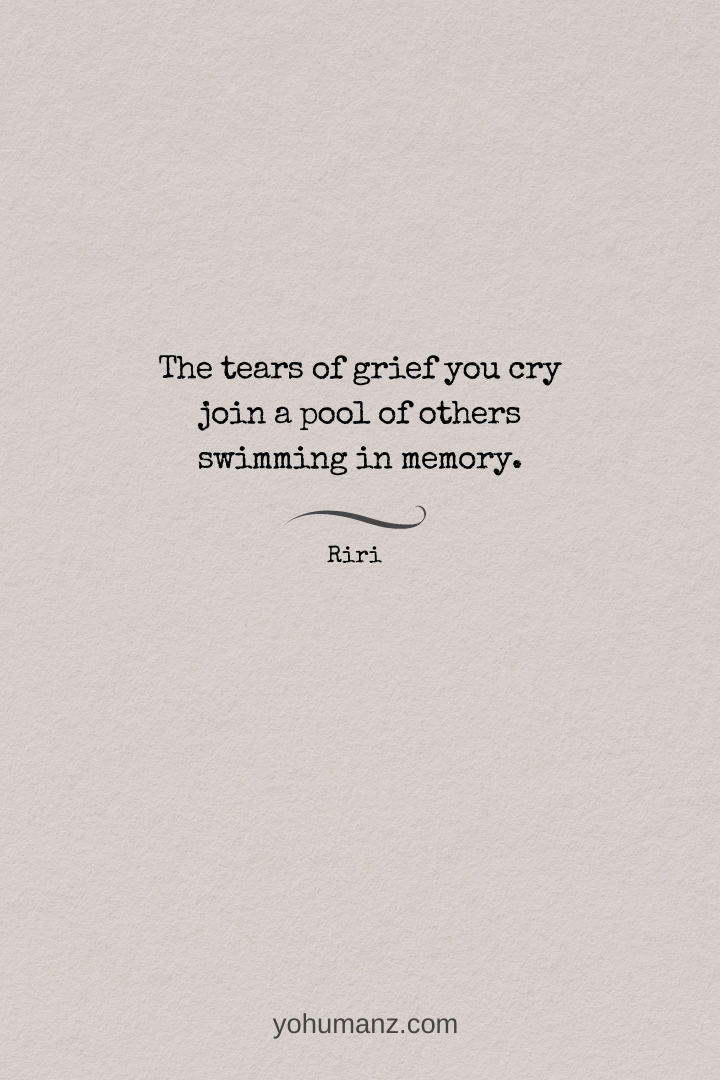 "The tears of grief you cry join a pool of others swimming in memory." -RRR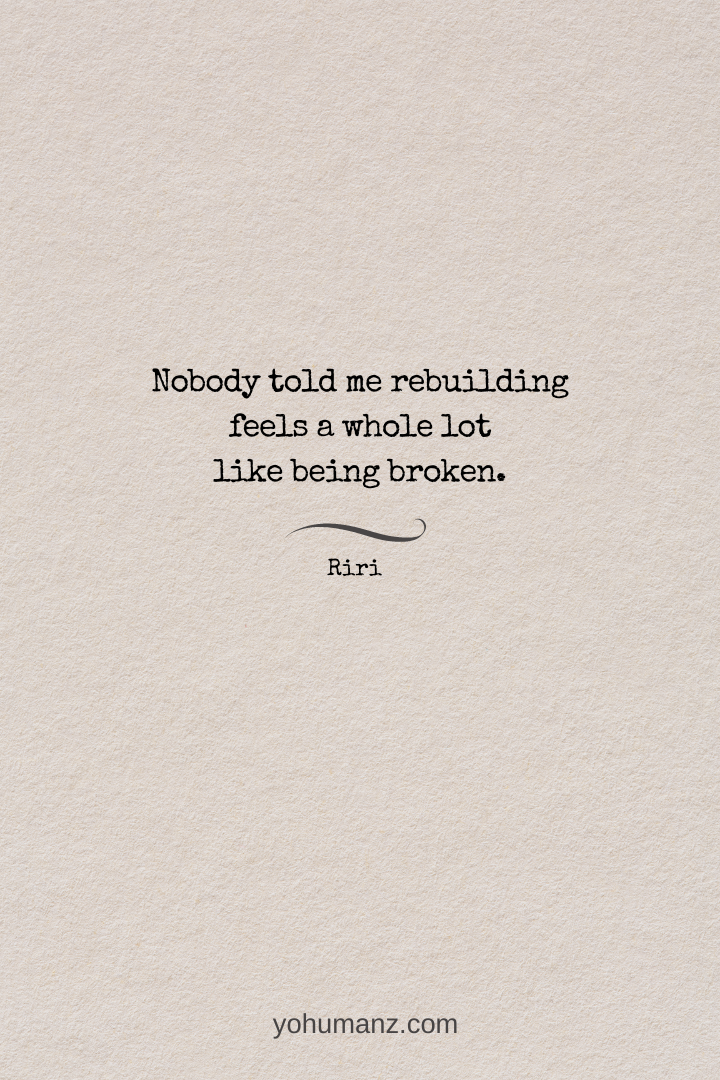 "Nobody told me rebuilding feels a whole lot like being broken." -RRR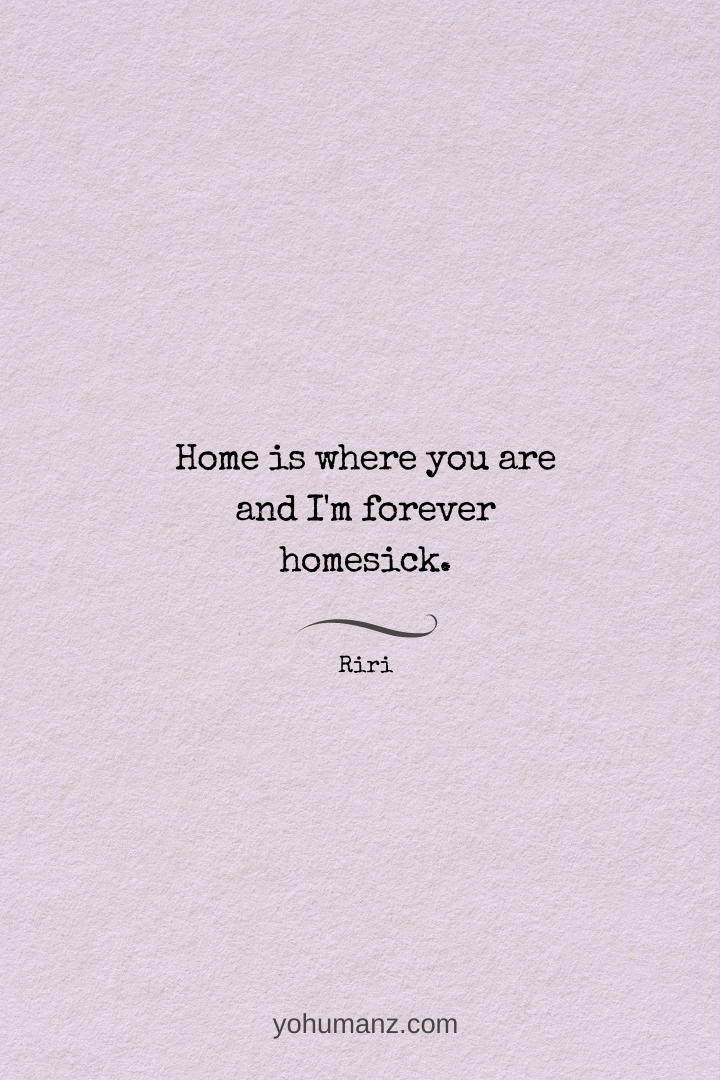 "Home is where you are and I'm forever homesick." -RRR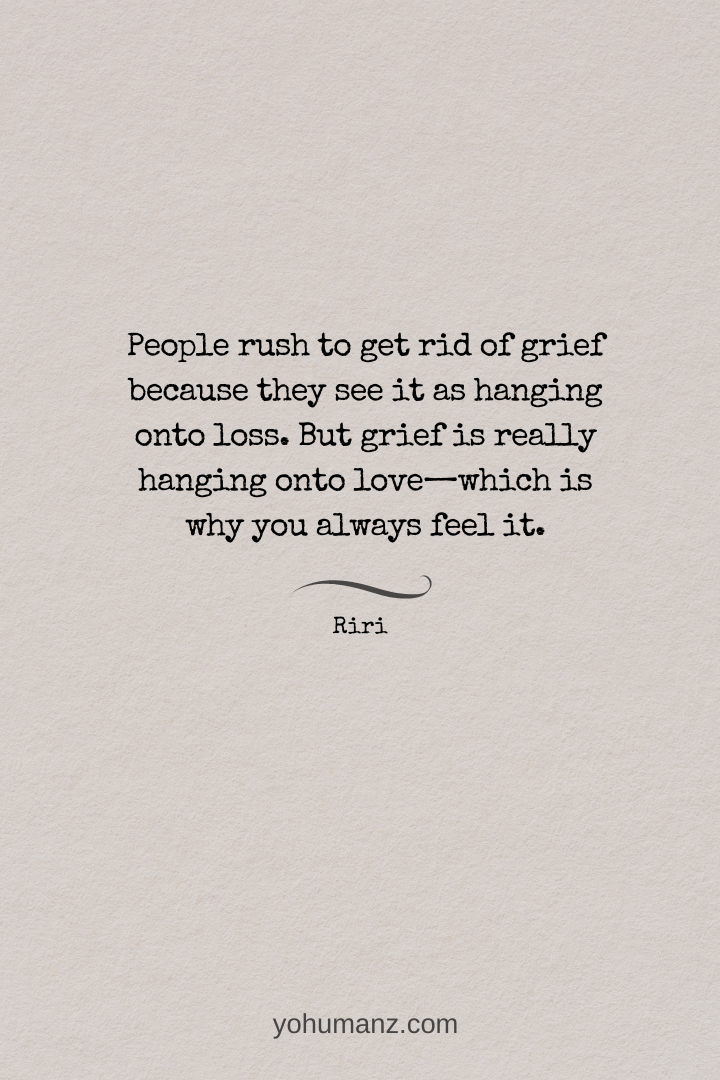 "People rush to get rid of grief because they see it as hanging onto loss. But grief is really hanging onto love—which is why you always feel it." -RRR
Summary: Grief and Loss Quotes: Losing Loved on Quotes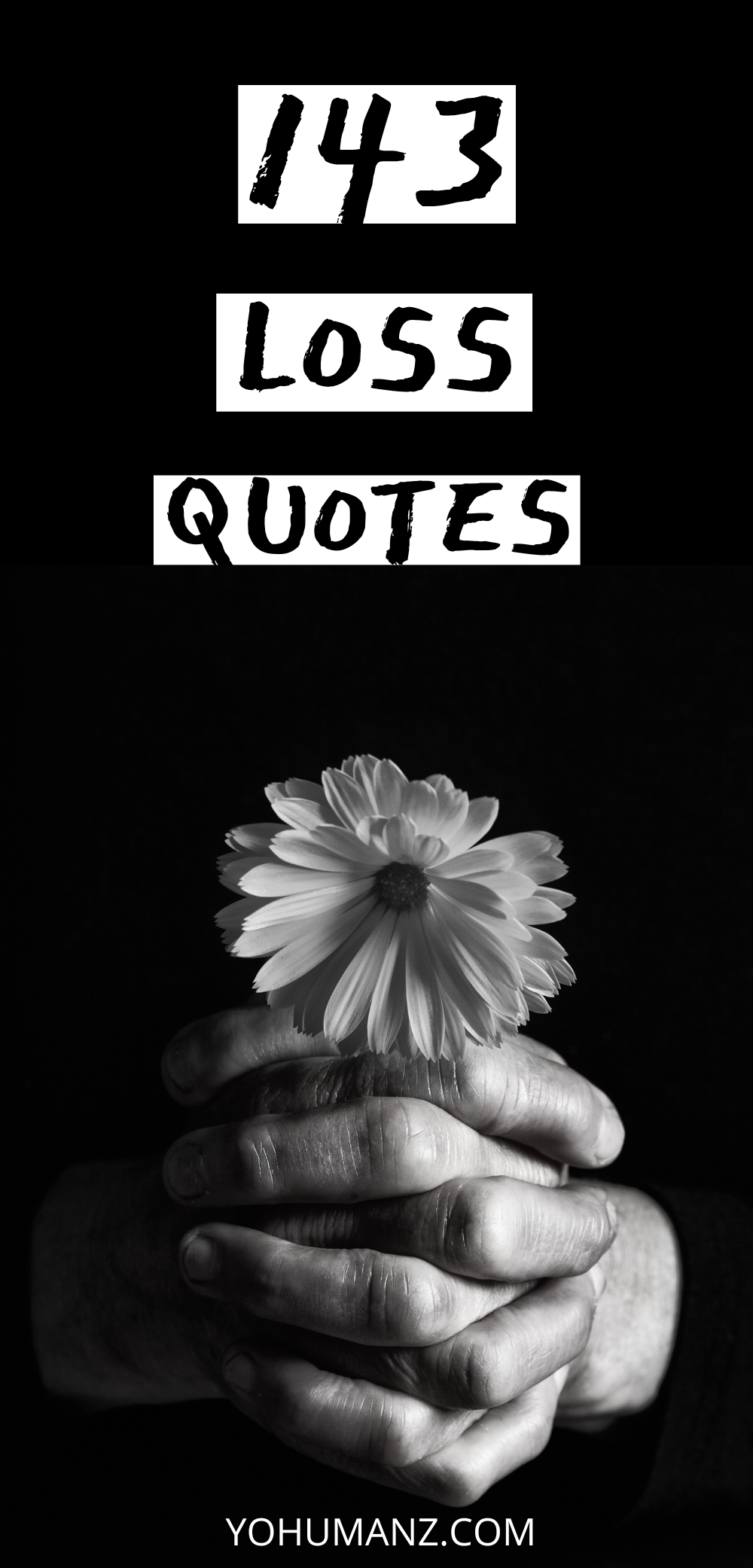 Reading grief and loss quotes may be a part of your journey. You may find it cathartic to have a cry session while reading highly relatable words. Alternatively, you may gain insight into a different perspective that brings new meaning to your grief. Ultimately, grief and loss quotes can make you feel less alone. While the world around you is carrying on, know that others are also working their way through grief.